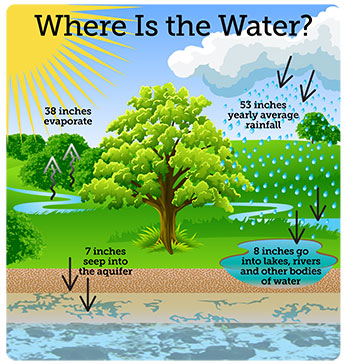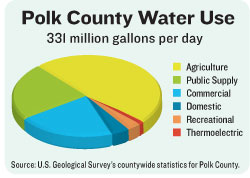 How much water does Polk County use? Where does the county get its supply? What resource alternatives are available?
These are just some of the questions tackled at the Polk County Water School. The seven-week course educates the public on key water issues to encourage improved public policy decisions.
"We deliver science-based information to help citizens of Polk County make informed decisions," said Nicole Walker, the county extension director at the UF/IFAS Polk County Extension Service.
The District partly funds the course in partnership with the extension service. The program, held every two years, is popular with local politicians and community leaders but is attended by a variety of people including residents who just want to learn more about water issues.
"We are all decision makers," Walker said.
About 50 people attended the first class where past participants spoke about their experiences with Polk County Water School. Polk County Commissioner Ed Smith explained why he took the course.
"I wanted the knowledge," he said. "Water is one of the most critical issues we face in central Florida."
He provided participants with some background on Polk's water issues, explaining how the county is divided under the jurisdiction of two Florida water management districts: either Southwest or South.
Smith said the concerns begin with the fact that more water is being withdrawn from the Upper Floridan aquifer than is replaced.
"That's why we need to seek alternative supplies," Smith said.
But Smith noted that tapping into the Lower Floridan aquifer or desalination are pricey options.
"Desalination is very expensive so we don't want to go there if we don't have to," Smith said. "The days of cheap water are going to be over."
Smith said the county is drilling test wells in the Lower Floridan aquifer. He said the county hopes to share the costs of exploring these alternative resources with Polk's 17 incorporated cities and the District.
One participant asked the question why more isn't done to capture rain water and what happens to all that water during Florida's rainy season.
Smith explained there isn't nearly enough to meet the demands of the 140,000 homes in unincorporated Polk County and individual cities. He said although Florida receives an average of 53 inches a year in rainfall, about 72 percent of that evaporates in the heat.
Another participant asked how high water issues are on the list of priorities for county leaders.
"It's priority No. 1," Smith said. "But there are about 10 other No. 1 priorities."
Patty Metz, a hydrologist for the U.S. Geological Survey, said that Polk is the fifth-largest user of groundwater in the state. The county uses about 331 million gallons per day. Nearly half of that is for agricultural purposes.
Joe LaCascia, Mayor of Polk City, explained that his lawn is what sent him to Polk County Water School.
"I didn't even pay attention to water issues until I moved to Florida from New York in 2008," LaCascia said. "Then I got my first water bill."
LaCascia said he paid about $160 a year for water in New York. But after planting grass and shrubs at his new Florida home, he soon learned his bill wouldn't be the same.
"That first month, my bill was $172," he said. "I was in shock and suddenly became very interested in water issues."
He said Polk County Water School made him more aware and concerned about water.
"Lack of education about this issue is one of our biggest problems," LaCascia said. "We need to build awareness because this is a problem that impacts your life every day."
During the seven-week course, participants tackled topics like water supply, water quality and conservation. They also took two field tours where they toured locations like the Combee Water Plant, Glendale Water Treatment Facility and Charlotte Harbor.
Participants that attended five live classes or tours or five webinar sessions are recognized in a graduation ceremony.
Visit polk.ifas.ufl.edu/NR/WaterSchool2012 to view the webinars and for more information about the program.