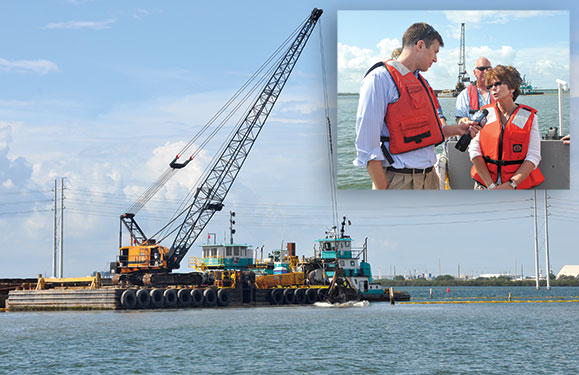 WFLA-TV meteorologist Brooks Garner interviews Rebecca Valone, project manager for the Tampa Port Authority, about McKay Bay.
When the District's Surface Water Improvement and Management (SWIM) Program began looking into the possibility of restoring the 56-acre McKay Bay Dredge Hole, there was only one problem. The project would need enough clean fill material to fill two football stadiums.
However, as SWIM staff began talking to the program's local partners, a solution quickly emerged. The Tampa Port Authority was in the process of designing its Eastport Mitigation project on the nearby shoreline. The project would involve creating 17 acres of wetlands and a 3.4-acre tidal channel, which would free up 216,000 cubic yards of clean fill. Meanwhile, another nearby Port Authority construction project would provide an additional 110,000 cubic yards of marine dredge material.
"We needed a lot of fill and the Port Authority was going to have appropriate material they needed to dispose of," explains Kris Kaufman, District environmental scientist for the SWIM Program. "The Port Authority immediately stepped up to partner with us and everything fell right into place."
The Port Authority volunteered to take the lead on constructing an underwater berm and filling the dredge hole to the existing bay bottom elevation, with the District providing the funding as well as the costs associated with the design and permitting. The goal of the project is to bring the bay bottom back to life.
"The Tampa Bay Estuary Program studied 11 dredge holes in Tampa Bay and found that the McKay Bay Dredge Hole had the poorest habitat quality," said Kaufman. "Our goal is to restore the bay bottom so that sea life will return and one day flourish."
In addition to the dredge hole restoration and the Eastport Mitigation project, the SWIM Program is also implementing another nearby project to improve McKay Bay in partnership with the Florida Department of Transportation.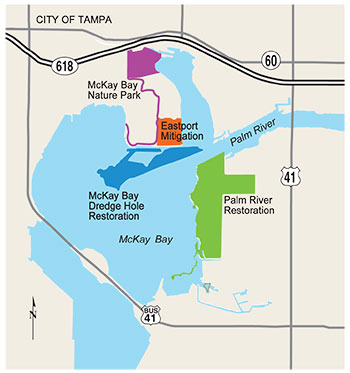 "The Palm River Restoration project involves multiple phases, which are designed to reduce erosion, restore habitat and improve the quality of runoff entering McKay Bay," said Stephanie Powers, District environmental scientist for the SWIM Program.
Phase I of the project will remove invasive plants, create intertidal pools and restore freshwater wetlands on 50 acres on the east side of McKay Bay at the mouth of the Palm River.
"The project just started last fall and we are already seeing a bird rookery developing in the wetland," said Powers.
Together all three projects are expected to have a positive impact on the bay when they are completed later this year.
"These projects are going to improve water quality in McKay Bay as well as restore habitat for sea life and wading birds," said Kaufman. "Our efforts in the bay are just another example of what we can accomplish through partnerships."