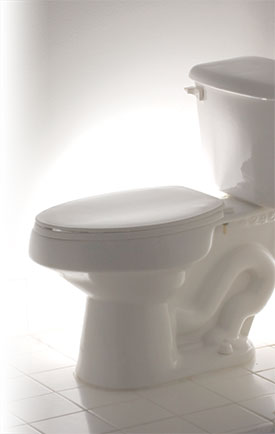 The District is helping people replace those water wasters in the bathroom by partnering with area cities and utilities to provide low-flow toilet rebate programs.
There are numerous ongoing low-flow toilet rebate programs currently within the District. Most offer up to a $100 rebate when residents replace inefficient toilets with low-flow models. The District splits the cost with participating cities and utilities.
Choosing low-flow toilets is important because those porcelain thrones make up almost 30 percent of all indoor household water usage. Outdated toilets can also leak, contributing to even more water wasted.
In 1992, President George Bush signed the Energy Policy Act. This law made it standard that toilets use a maximum of 1.6 gallons per flush. Prior to this law, older models used up to four gallons per flush.
By replacing those older models with a low-flow option, a family of three could save up to 870 gallons per month. That also translates to lower water bills.
These toilet rebate programs aid in water conservation, especially in communities with older homes. For example, the comprehensive plans for Zephyrhills and Dade City indicate that nearly 80 percent of existing homes in both cities were built before 1995.
That's why one of the District's low-flow toilet rebate programs is in conjunction with these cities through the East Pasco Water Coalition. The District estimates that through this specific grant and installing low-flow toilets, the cities will be able to save more than 6,750 gallons per day.
"Water conservation is something that should be on the minds of us all," said Nick Makris, the District's Staff Water Conservation Analyst. "Retrofitting older fixtures is one of the easiest and most cost-effective ways of realizing significant water savings. It is a great program that benefits the participating utilities, their customers and the District alike."
Residents can check out WaterMatters.org/ToiletRebates to see which local utilities have participating low-flow toilet rebate programs.