Advanced technology has reached nearly every single aspect of the District in one way or another throughout the organization's history, most notably in the past two decades.
"The technological changes during my tenure alone were like going from horse and buggy to putting a man on the moon in a very short period of time," said Pete Hubbell, District executive director from 1988 to 1997.
Information Resources
In the early 2000s, the District's operating system consisted of an IBM mainframe that was used primarily for regulatory, permitting, financial systems and human resources. The geographic information system (GIS), networked desktop computers, email system and website were separate components.
"Compared to where we are today, the system was very basic and disconnected," said Terry Redman, former Information Resources director.
By 2003, the District began working on an initiative that integrated several different data sources into one application. Users are now able to access information such as regulatory permit information or water management hydrologic data and view it spatially. This system allows permit applicants to apply for or manage their requests online as well as search for permit-related information based on various criteria.
Office operations also changed significantly with the introduction of electronic support. Over time, tasks involving mail, timecards, leave requests, pay stubs, conference room reservations and even performance appraisal processes became computer-based.
In addition, video teleconferencing has allowed staff to connect for meetings and share information via video rather than traveling to different locations. The District launched this feature in 2002 with four stations and currently has 14.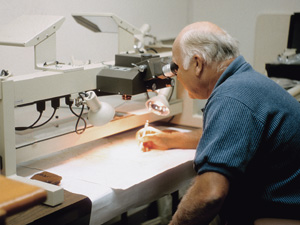 Bob Evans, former District Mapping & GIS employee, hand-traces a map from aerial photography.
Mapping and GIS
Technology advances in mapping paired with the introduction of GIS software have enabled the District to collect, store and publish the most accurate and detailed map information available.
In 1987, the District implemented its first GIS software. Along with the ability to create maps, this new software allowed the District to analyze and store location-based information.
"The real advantage GIS had over the District's original computer mapping software was that not only could you show where something was located but you could describe it," said Steve Dicks, former District Mapping & GIS program director who recently became the District's Information Resources Bureau chief.
In addition, GIS software enabled staff to create location-based queries, such as finding all the permits within a specific watershed or identifying wells in groundwater contamination zones.
Around 2000, new user-friendly software was introduced that made accessing mapping and GIS information much easier.
"Currently, more than 400 staff use GIS, and almost all data are available to the public from the District's Internet site," said Dicks.
Over recent years, GIS staff has focused on integrating GIS data with District scientific, permitting and project management information into a central location. The section has been able to meet the District's internal needs for information while making it accessible both internally and externally, according to Dicks.
"Currently, we have been able to move from fulfilling requests for information to providing technical support on how to access data," said Dicks. "Staff are doing their own analyses, and that is a sign of success."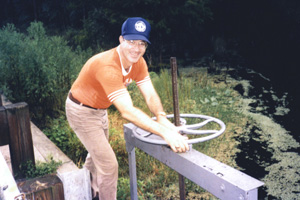 Gary Kuhl, District executive director from 1983 to 1988, manually operates the Bryant Slough Water Conservation Structure before it was set up for remote operation.
Structure Operations
Structure operations have made vast advancements in technology over the past decade, resulting in the remote operation of many of the District's structures.
According to Mike Bartlett, District structure controls analyst, in the past, crews were sent out to live in the control houses on the structures during extreme weather events.
"We used two-way radios, when we had reception, to communicate with crews and tell them where to set the gates to control water flow," said Bartlett.
In the early 1990s, the District implemented the Supervisory Control and Data Acquisition (SCADA) system. The system enabled the District to automatically collect hourly water level and rainfall data from more than 250 sites. By 2005, the District was able to integrate this automated data collection with remote structure control into one application.
Today, staff monitors 81 water control structures and remotely operates 35 of those from a laptop with just a few mouse clicks.
"Through the use of technology, we can anticipate high water events by monitoring water levels, rainfall and current weather conditions," said Bartlett. "We can begin lowering lake levels where needed prior to the event, giving us a head start on our ability to aid in flood control."
In addition, 15 of the 35 mission-critical automated structures have real-time video. This feature allows staff to monitor the structure, confirm it is working correctly and address any issues.
Floodplain Mapping
New data collection methods have enhanced the process to evaluate the risk of flooding in areas throughout the District.
Staff gathers terrain and conveyance data to develop watershed models that show where water will flood the land surface. For years, these model results were hand-drawn on maps that displayed the flood inundation areas.
By 2003, LiDAR (light detection and ranging) was implemented at the District and is considered to be a major advancement in floodplain mapping technology. LiDAR technology uses a laser to determine the ground elevation and stores it digitally.
"LiDAR has substantially enhanced the ability to do floodplain mapping," said Harry Downing, District senior professional engineer. "Using LiDAR and GIS software, we can produce a three-dimensional (3-D) digital terrain model."
Today, LiDAR data is used in the simulation of the watershed's response to a rainfall event. With this data and new techniques, staff is now able to produce more accurate, highly detailed and complex models that include features that could not be easily represented previously.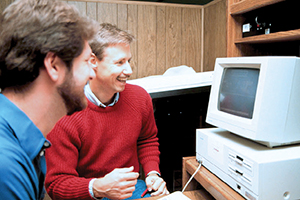 Steve Camp, left, District professional geologist/engineer, and Mark Barcelo, District Hydrologic Evaluation Program director, use a computer to run a groundwater model in the late 1980s.
Groundwater Modeling
Today's advanced software applications allow staff to include much more detail about the hydrologic system in groundwater models.
Groundwater models are computer models of groundwater flow systems. District scientists use models to predict what will happen to water levels in response to future groundwater demands.
The advancements in technology help to better predict the effect of withdrawals on natural systems such as rivers, lakes, wetlands and springs.
In addition, staff can now analyze more than just groundwater systems. The integrated hydrologic model simulates detail about both groundwater and surface water systems.
"In the past, we had to make simplifying assumptions about surface water systems," said Mark Barcelo, District Hydrologic Evaluation Program director. "New advancements allow us to simulate the effects of groundwater pumping on water levels in lakes and wetlands as well as flows in rivers and springs."
Groundwater models are used to determine groundwater availability in both the permitting and the regional water supply planning processes. District staff is working with other water management districts to develop models that can be used in the long-term water supply planning process in areas where they share common boundaries.
Desktop Publishing
The Visual Communications Section welcomed new technology as the production of materials moved from pen and paper to photographic processes and eventually desktop publishing.
In the early 1970s, staff produced projects by hand, such as illustrations, maps and the District newsletter. For Governing Board presentations, the illustrations were either photographed or presented as slides or hand-drawn on poster board and displayed on easels.
By the late 1980s, the majority of the artwork created by the visual arts section had transitioned from freehand to computer design, known as desktop publishing. Industry positions such as specialized camera operators, typists and plate preparation staff became obsolete.
"It was a time of rapid change," said Dean Rusk, Visual Communications manager. "The advent of desktop publishing allowed us to flex our creative muscles."
In addition to computer-based design, graphic software became even more sophisticated. Artists were soon able to take information from other District data sources, such as GIS, and export it to create 3-D maps, charts and graphs.
By the late 1990s, web publishing software allowed the creation of the District's first website.
Technology has revolutionized both the District's day-to-day operations and long-term planning ability. Over the past few decades, staff has embraced the benefits of the electronic world by expanding their own skills while enhancing the District's customer service and shaping its future.