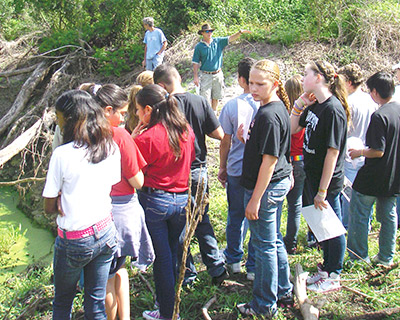 Ted Gates takes a sixth-grade school group on a tour of Gator Sink.
Ted Gates, District professional geologist, recently led Polk County's Southwest Middle School sixth-grade teachers and students on a field trip to observe a sinkhole firsthand at Gator Sink. Gates was given the opportunity to work with the school after joining the District's Youth Education Team.
Youth Education staff formed the Youth Education Team to provide training and instruction for all District employees interested in outreach to schools, teachers and youth organizations. The Youth Education Team coordinates future opportunities for team members to make presentations at schools, participate as experts for student and teacher field trips and assist at youth-related events within the District upon supervisory approval. To date there have been two youth education training sessions and more than 90 employees have attended the trainings.
"I was really impressed with the enthusiasm of the Youth Education Section. The staff has developed a number of fun, innovative methods for teaching water resource science to students," said Gates. "They encouraged me to share my knowledge of hydrogeology with students in District schools."
Southwest Middle School science teachers developed a program to teach students about Florida's ecosystems, in which this year's focus was sinkholes. The teachers conducted classroom activities that simulated sinkhole formation, but they were eager for their students to learn and see more.
Gates first visited the two sixth-grade earth science classes to discuss the geologic history of Florida, karst topography and the variety of factors that lead to the formation of sinkholes in central Florida. He then arranged a field trip with the Department of Environmental Protection to visit an actual sinkhole.
"When the teachers asked if I knew of any sinkholes the students could visit, I thought of Gator Sink in the Peace River Basin," said Gates.
Gator Sink is a classic large sinkhole located in an undeveloped wooded area of Bartow only a few miles from Southwest Middle School in Lakeland. The sinkhole is one of the largest in Polk County, measuring 90 feet long by 72 feet wide and 40 feet deep. It is located about 800 feet west of the Peace River's edge. When the river floods and the water level rises, the water flows through a tributary and drains into the sink.
Getting to the sinkhole involved crossing a barbed-wire fence and following a trail through the woods.
"The kids really seemed to enjoy the natural setting of Gator Sink," said Gates.
Planning is under way for the next youth education training events, which are tentatively scheduled for February 2011. If you are a District staff member interested in joining the Youth Education Team, please contact Mary Margaret Hull at (352) 796-7211, ext. 4774.