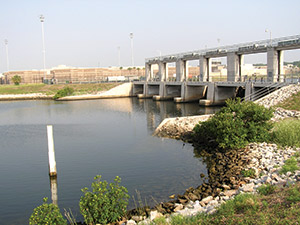 Tampa Bypass Canal Structure 160 is one of the 81 water-control structures the District operates in its 16-county area.
With the National Oceanic and Atmospheric Administration predicting 14 to 23 named storms this hurricane season, the District's Operations Department is standing by and ready for what could prove to be a very active summer.
"All of the District's 81 structures are inspected regularly to ensure proper functioning," said David Crane, District structure operations manager. "Staff completed additional annual hurricane readiness checks on each mission-critical structure in May to ensure that all electrical, hydraulic and mechanical components of the critical structures are working properly."
These mission-critical sites are structures, such as the Tampa Bypass Canal, that provide important flood control for downstream property owners. Staff also confirmed that all gates are functioning correctly, that each emergency generator is working and fully fueled and that video surveillance at each structure is fully operational.
Many of the District's structures are equipped with remote control capability that allows staff members to open and close gates quickly to prevent flooding.
"We are constantly monitoring the water levels and conditions at these structures and are able to safely adjust water levels through our computer systems, even during severe weather events," said Crane.
All emergency operations activities at the District are coordinated through its Emergency Operations Center, a facility where the District provides direction and control during any type of emergency event. Members of the District's Emergency Operations Organization (EOO), which is composed of staff with the expertise and authority necessary to manage emergency operations, and organize response activities. During a hurricane, the EOO coordinates District response efforts with the state and other emergency operations centers and appropriate agencies.
Some of the District's hurricane readiness procedures were updated after the busy 2004 season — when the Atlantic produced nine hurricanes, six classified as major hurricanes, four of which hit Florida. During that year from August through January, staff logged more than 14,300 regular and 7,669 overtime hours on hurricane-related activities. These included operating structures for flood control, clearing debris, assisting local governments with cleanups and performing environmental studies.
Some staff members who were trained in chainsaw safety even worked to clear roads immediately after the storms. In addition to staff time, the District's Governing Board approved $1.2 million to clean up debris in the Peace Creek Drainage Canal.
"We are very proud of our staff's consistently proactive approach to hurricane preparedness," said Mike Holtkamp, District operations director. "We place a high priority on training and technology to ensure that we are fully prepared for hurricane season."
District to Manage Peace Creek Canal
This May, Governor Crist signed a new law that abolished the Peace Creek Drainage District in Polk County and transferred all its assets and responsibilities to the District. As a result, the District is now managing the 35-mile Peace Creek Canal, which provides drainage relief to more than 200 square miles in Winter Haven and unincorporated areas of Polk County. Since the 2004 hurricanes, the District has spent several million dollars and hundreds of staff hours cleaning, clearing and maintaining this important resource.
"We are committed to continuing the maintenance of the Peace Creek Canal to ensure continued flood protection for the property owners in the region," said Dave Moore, District executive director.