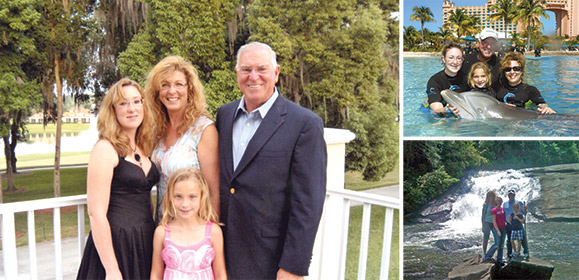 Ron Oakley, his wife, Tamara, and their daughters Ashley and Hannah Mae.
For Ronald Eugene Oakley, "Your word is who you are. Be honest, truthful and treat people right."
Ron believes in making meaningful connections to people, to the land and to his faith.
Born in Dade City, his Christian upbringing shaped the man he has become. His mother, Mae Belle Oakley, set a wonderful example for Ron to follow as she did volunteer work at the First Baptist Church and other civic organizations. She died of Addison's disease at the age of 32, leaving a husband and two sons to remember the lessons she had taught about faith and giving of yourself to others. Although he was only 10, Ron learned well.
For many summers, Ron would find himself with his maternal grandparents on their farm. Those summers transformed the youth. Riding horses, working with the cows and pigs, and tending to the land forged a love of the outdoors that is evident still. Seeing the labor on the farm produce the food that sustained them rooted a deep appreciation in Ron for the connection between the land and people.
Ron continued his summer visits to the farm until his teens but spent most of the year in Dade City. He remembers a different time, when kids could walk by themselves without fear to the movies, to church, to the store. His early adolescence was full of athletic activity as well. Ron played basketball, baseball and football throughout school, eventually quarterbacking the Pasco High team.
Ron's father, Tom Ed Oakley, married Patricia Ann Pruitt, and she helped him raise his sons. Tom Ed and Pat had two daughters, making the Oakley family complete.
Ron's father worked in the citrus business all of his life. He had only a ninth-grade education, "but he knew numbers and business as well as anybody." Tom Ed worked seven days a week. Groves and other businesses needed tending. He was responsible for getting the job done, a work ethic he instilled in his son.
Ron remembers his father, who passed away five years ago, always said, "Don't put off 'til next week what you can do today."
In his youth, Ron assisted his father with his citrus businesses, mostly caretaking. He especially remembers a 90-acre grove in Balm that he planted. At the time you had to hoe the grove by hand. It took all summer. By the time he finished doing the property once, he had to go back over it again.
"I was really happy when they came up with a hoeing machine you could attach to a tractor."
Despite its difficulty, Ron loved the caretaking, especially turning around a neglected grove.
"Doesn't matter where you are. If you're out in a grove in the morning with the sun shining…and the sparkle of dew on the leaves. It's absolutely beautiful."
Two weeks after graduating from Pasco High School, Ron began his college career at Carson-Newman in Jefferson City, Tenn. He was an accounting major with enough courses in math, economics and political science to minor in any of those fields. Ron attended year-round, earning his bachelor's degree in three years.
"Don't put off 'til next week what you can do today."
After graduating from college, Ron began his career in the family business with his father. He also attended Florida Southern College in Lakeland where he took citrus and landscaping courses. Ron entered the National Guard, taking basic training at Fort Campbell, Ky., and winning the company leadership award. After six years and making staff sergeant, Ron was honorably discharged.
About the time he got out of the Guard, Ron's father had decided to turn a piece of land in Dade City into a perpetual care cemetery. Ron was ambivalent about the work.
"We were going to be pushing out a lot of trees I planted with my bare hands. But it was something my father felt he needed to do."
So Ron found himself operating the cemetery for its first five years. Reluctant to have started the project, Ron now found himself responsible for it. His strong religious beliefs carried him through, but still, some of the work was difficult to handle emotionally.
"The worst was when young kids, teenagers, died in accidents. That was tough to deal with."
In the 1980s the Oakley family entered the fresh fruit packing business. The '80s was a hard decade on the fresh fruit business. There were seven freezes that decade with major freezes in 1983, 1985 and 1989.
"It changed a lot of people's lives. Lots of folks weren't in the citrus business anymore."
But Oakley Groves survived, diversified and today is one of the largest citrus haulers in the state. The family started Oakley Transport, which hauls liquid food commodities — orange juice, liquid sugar, cooking oil, rum, tequila and other spirits — in stainless steel tanks.
Between work and family, Ron already had a busy and full life when he was approached by Jerry Rice, a former chair of the District Governing Board, to gauge his interest in serving on the Board. He was admittedly leery of the regulatory agency. He'd never been in public service, so before committing, he sought out advice from his wife, Tamara, and his friends in the community.
After receiving significant support, he decided to apply for the volunteer position. Once appointed, Ron became a regular at District offices. He's often seen roaming through the halls — jeans, boots and District cap — reaching out to District staff about their work and about their lives, making a personal connection. And very few District events occur that Ron is unable to attend.
"If I'm part of it, I'm going to work it."
His relentless volunteer efforts and support of District activities were rewarded by his peers when the Governing Board in May unanimously elected him to serve as chair. For his part, Ron feels that he gets back so much more than he gives.
"I don't know why this happened to me at this time in my life, but this has been one of the best experiences of my life. And it's been a humbling experience for me, not just to be a Board member, but also the chair. It's just wonderful."
Ron's close work with District staff has also been enlightening.
"I've never been at a place that had so many professional people from all the ranks, who have so much knowledge and care so much about what they do. I'm so excited and passionate about what goes on here and what we do. I'm so happy to help people. We are touching a lot of lives."
Ron describes himself as a conservative person who doesn't need a lot and is appreciative of what he has. He and Tamara live in Zephyrhills with their two daughters. Ashley Victoria is 17, a senior at Zephyrhills High School and president of the school's Future Farmers of America. Hannah Mae, 7, is in the second grade and takes dance and acrobatics at Blackwood Studios. Ron also has three older children — Ron Jr., Brenna and Aaron — and two grandchildren, Trey (11) and Brooke (7).
His life comes packed with responsibilities from business, family and the District. To unwind, he visits some property in Zephyrhills where he has built up a herd of cattle.
"My banker said I wouldn't make any money. But I love cattle. The cows are for me. They're my hobby. They're a good-looking herd. I like to take care of them and the land."
He has some friends and workers who help with the cows, but he does the cutting of the bull calves, the giving of shots and the branding himself.
At the end of another busy day, riding through the herd as the late afternoon sun prepares to rest, calves running here and there, Ronald Eugene Oakley feels calm…feels peace…feels connected.