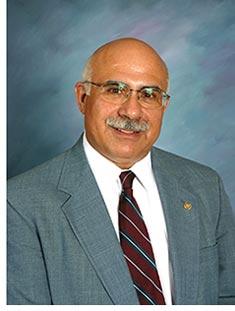 Eugene Schiller, the District's deputy executive director of the Division of Management Services, has been appointed to a second term on the U.S. Department of the Interior's National Geospatial Advisory Committee. His term of appointment is for three years.
The National Geospatial Advisory Committee's main goal is to provide "ground level" advice on the development of the National Spatial Data Infrastructure, which promotes sharing of geospatial data throughout all levels of government, private and nonprofit sectors and the academic community.
Schiller was appointed by Interior Secretary Ken Salazar to represent regional government. He is one of two members of the committee representing regional government entities nationally. He serves as co-chair of the Partnerships subcommittee and is on the Emerging Technologies subcommittee.
The Partnerships subcommittee has been tasked to continue to identify opportunities and best-practice models to enhance the effectiveness of public-public and public-private geospatial partnerships. The subcommittee is also tasked to identify and evaluate possible geospatial commerce models that may be applicable within the Federal geospatial community.
"The District is a national role model for partnerships in geographic information system information and cooperative funding," said Schiller. "We have worked hard to build effective working agreements and cost sharing with agencies at all levels — government, nonprofit and the private sector. Our District is doing what other public entities are only considering. The District and partners all share information and share the costs of gathering, maintaining and analyzing GIS information in the public interest."
Schiller is among 28 individuals from a broad range of public and private organizations across the country selected to serve on the committee, which is expected to meet three or four times a year.