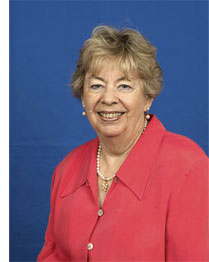 Gov. Charlie Crist has recognized former Governing Board Member Sallie Parks as a Governor's Point of Light.
"Sallie's generous efforts are making Pinellas County a better place to live, work and play," said Gov. Crist. "The extent of her philanthropy and involvement in the community is inspiring. I truly appreciate her selfless commitment to the Sunshine State."
The Governor's Points of Light Award recognizes Florida residents who demonstrate exemplary service to the community. Award recipients are announced weekly. A panel of judges composed of leaders in the areas of volunteerism and service evaluate all nominations and make recommendations to the Governor.
Parks, a resident of Palm Harbor, was appointed to the Governing Board in 2006 and served as co-chair of the Pinellas-Anclote River Basin Board until her term expired in March. She also served as Governing Board treasurer.
A resident of Pinellas County for 45 years, Parks retired as the lobbyist for St. Petersburg College in 2003. From 1992 to 2000, she served on the Pinellas County Board of County Commissioners and, while a commissioner, served for two years on the board of directors of Tampa Bay Water.
Parks was also the first executive director of the Pinellas County Arts Council. Under her leadership, the council, now an entity of Pinellas County local government, expanded its services and grew its operating budget.
Sallie Parks serves as a volunteer board member and chair to several nonprofit organizations. She founded the PACE (Practical Academic Cultural Education) Center for Girls Pinellas, a non-profit prevention program in Pinellas County targeting the unique needs of females 12 to 18 who are at risk of entering the juvenile justice system. Parks has also been president of the Rotary Club of Dunedin. In May 2003 she chaired a Rotary Club committee that worked toward the creation and funding of the Rotary Centennial Nature Center, an educational hub for visitors to Honeymoon Island, a rare, local ecosystem.
Most recently Parks was appointed to the Board of Governors of the Pinellas Community Foundation. She currently serves as president of the Area Agency on Aging of Pinellas-Pasco. Parks has volunteered her time with the United Way, American Heart Association and Juvenile Welfare Board. She currently serves on 12 boards, councils and committees.