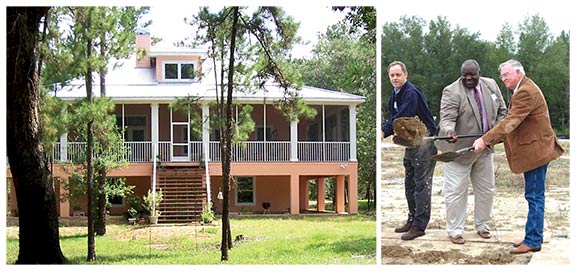 Above left: A certified custom riverfront home in Hernando County. Right: Governing Board Member Ron Oakley, right, and Pasco County Commissioner Ted Schrader, left, help Ricky Chiles break ground on a Florida Water Star℠ Gold home.
The Florida Water Star℠ Gold (FWSG) program is certifying more homes and getting more builders involved in the fight to conserve Florida's water.
The first FWSG homes have been built in Pasco and Hernando counties. The District certified a model home in Pasco County's Sunset Hills affordable home community on Feb. 5. Hernando County's first FWSG home was a custom stilt home that was certified Feb. 12 in the Riverdale community.
"We are pleased that we have such a wide spectrum of housing styles in the program," said Susan Douglas, FWSG certification coordinator. "We have housing for low-income, first-time homebuyers; a custom riverfront home in Hernando County; and cottages in Dunedin. Environmentally friendly homes can be elegant, and they can be affordable."
In Pasco County, the District partnered with nonprofit builder Florida Home Partnership, a developer that provides affordable housing opportunities for first-time homebuyers through "sweat equity," and the U.S. Department of Agriculture's Mutual Self-Help Housing Program. The partnership broke ground on five of the 40 water-saving homes that are planned so far for the Sunset Hills community.
In Hernando County, Diamond Construction built a custom stilt home on the Withlacoochee River. The builder took special care during construction to ensure there would be no damage to the river. The builder also designed the landscaping with native plants dominating the site to preserve the natural setting without underground irrigation. The home features plumbing fixtures that meet the Environmental Protection Agency's WaterSense criteria, such as high-efficiency toilets and water-saving faucets and showerheads.
In addition to certifying homes, the District continues to offer training. Government staff from Charlotte, DeSoto, Lee and Sarasota counties attended FWSG certifiers training March 24–25. Landscape and irrigation classes are planned to help builders and landscape professionals learn how to build water-saving homes.
The FWSG program is a voluntary certification program for builders that focuses on indoor and outdoor water conservation and landscape best management practices. The program is in its second year, and 22 homes have been certified. In addition, 14 builders have signed intent agreements with the District to potentially build nearly 300 homes to the FWSG standard.