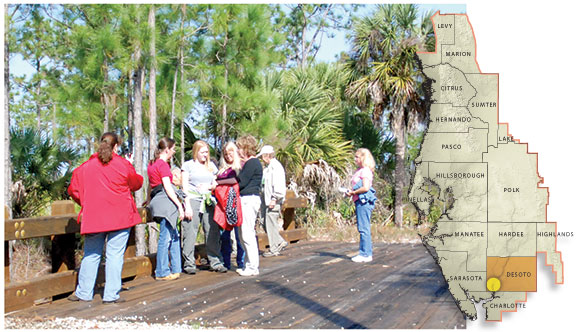 District staff and vendors walk the bridge at the Deep Creek property.
Get inside the Deep Creek Preserve and you'll feel far from civilization without driving too far from home. The preserve is a short drive from Port Charlotte, but with 2,000 acres of land and nine miles of unpaved multiuse trails, explorers on foot or on horseback can lose themselves in a small piece of the Florida wilderness.
"Hikers and riders can get a great sense of an intact Florida ecosystem at work at Deep Creek," said Stephanie Green, senior land management specialist. "And this is happening in a place that is really easy to get to."
About half of the property is pine flatwoods with longleaf pines and a diverse mixture of native shrubs and herbs. Besides bobcat and fox squirrel, quail and other native wildlife can be found in the flatwoods and hammocks.
The preserve offers separate group, equestrian and primitive camping sites. A backcountry camping site near Deep Creek has a picnic table, fire ring and grill. A portable toilet and nonpotable water are near the picnic facilities at the park entrance.
DeSoto County's Deep Creek Park borders the preserve and includes public restrooms and a boat ramp. Commercial kayak rental services are nearby, and there is boat access to trails on the eastern edge of the preserve from Deep Creek.
The Deep Creek Preserve is open daily from sunrise to sunset. A free reservation is required for overnight campers.
The District will host a "Get Outside!" community event at the preserve from 10 a.m. to 2 p.m. on April 10, 2010. The event will offer guided nature hikes, children's activities, scavenger hunts and more. Visit WaterMatters.org/recreation for more information.
For more information about the county-managed parks, please call the DeSoto County Parks and Recreation Department at (863) 491-7507.
Each issue of WaterMatters features a different District property ready for you to explore. These public lands are close to home and are free or very inexpensive to use.