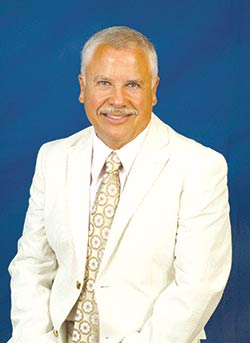 Carlos Beruff
Newly appointed Governing Board member Carlos Beruff took his oath of office in August.
Beruff was appointed by Governor Charlie Crist to succeed Patricia Glass and represents Manatee County on the Board. His term ends March 1, 2013. Beruff also serves as the co-chair of the District's Manasota Basin Board, which covers Manatee and Sarasota counties.
The native Floridian lives in Parrish and is owner and president of Medallion Homes Gulf Coast, Inc. He founded the company in 1984. Beruff is a certified building contractor as well as a member of the Home Builders Association of Manatee County and the National Association of Home Builders.
Beruff feels his extensive experience in developing land and building successful residential communities has provided him unique insight into the District's permitting processes.
In addition to his residential homebuilding experience, Beruff serves on the board of trustees for State College of Florida, Manatee-Sarasota. He also serves as a commissioner for the Sarasota-Manatee Airport Authority.