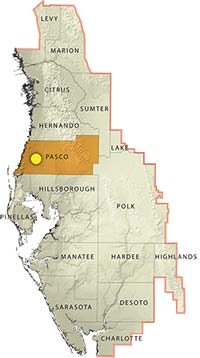 Whether your favorite outdoor activity is camping, kayaking, hiking or horseback riding, the District has the place for you to get outside and do your thing. The District owns a variety of properties that include more than 343,000 acres of land open for public recreation. And while about 2.5 million people visit these properties each year, many people don't realize these recreational opportunities are located just minutes from their homes.
That's why WaterMatters will feature a different property in each issue. The Serenova Tract, located in western Pasco County, is the first property to be profiled in this new feature.
Serenova Tract
The 6,533-acre Serenova Tract is part of the larger Starkey Wilderness Preserve. The entrance to this property is off SR 52 just west of the Suncoast Parkway on the south side, across from Hayes Road.
An accessible restroom and a nonpotable water source are located deeper in the woods near the equestrian, group and primitive campgrounds. Outdoor enthusiasts can reach the campsites by obtaining a free reservation, which will give them access to enter an additional gate. Disabled anglers can also get a permit to access a handicapped-accessible dock. Campers and anglers can obtain their reservations and permits on the District's web site at WaterMatters.org/recreation/.
The Serenova Tract is also a great place to go hiking, mountain biking or horseback riding. In fact, there are 18 miles of multiuse trails available. Those who venture out on the trails should know that during the rainy season some of the trails can get very wet.
The Serenova Tract is open daily from sunrise to sunset. Picnic tables are located near the parking area in the front.
This property's prominent natural communities include pine flatwoods, cypress domes, freshwater marshes, stream and lake swamps, sandhill and scrub.
Like many District properties, this tract serves as a natural buffer for one of the region's primary freshwater resources, the Pithlachascotee River. The land protects water quality by serving as a recharge area for a regional well field and acts as a natural filter of surface water as it flows across the landscape into the river.

From top to bottom: 1) The entrance to the District's Serenova Tract is off SR 52 in Pasco County. 2) The property features primitive campsites. 3) Various lakes offer visitors fishing opportunities. 4) A vault toilet is located near the campsites.