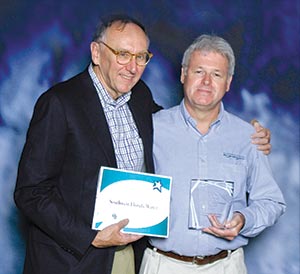 Jack Dangermond, ESRI president and CEO, presents Axel Griner, District senior GIS analyst, with the District's special achievement award.
The District received a special achievement award at the annual Environmental Systems Research Institute (ESRI) International Users Conference for its vision, leadership and innovative use of geographic information system (GIS) technology.
The District was selected from more than 300,000 organizations worldwide.
"This award does not represent any single use of GIS at the District but instead recognizes that it is fully integrated into most aspects of the way we do business," said Steve Dicks, mapping and GIS program director. "This honor is the product of several years of work by many departments and the support of the Governing Board and Basin Boards."
GIS combines computer hardware, software and data to collect, manage and analyze geographic information. The District has been using GIS software to support its efforts in water supply development, conservation management and public education for more than two decades. Examples of GIS uses include collecting data to update the Federal Emergency Management Agency (FEMA) flood insurance rate maps and allowing the public to submit water use and well construction permits online.
ESRI has been in the GIS software business since 1969. ESRI software is used in more than 300,000 organizations worldwide, including the 200 largest cities in the United States, most national governments, more than two-thirds of Fortune 500 companies and more than 7,000 colleges and universities. Approximately 12,000 GIS professionals attend the company's annual user conference.