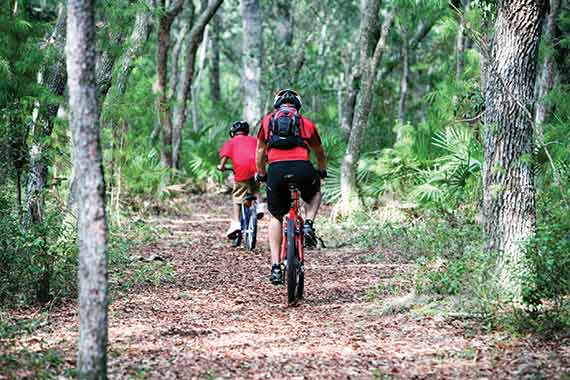 Just in time for National Public Lands Day, the District is launching its "Get Outside!" campaign on September 26 to promote the District's lands to the public.
"Get Outside!" is a communications campaign based on research that focuses on what would make people more likely to get outside on District lands. The goal of the campaign is to promote the value of ecosystem protection through recreation on conservation lands.
The District has more than 343,000 acres of conservation lands in the region. These lands are open to the public for activities such as hiking, bicycling, hunting, horseback riding, fishing, paddling, camping, nature study and picnicking.
"Many people are unaware that District lands are available for recreational use," said Will Miller, District land use and protection manager. "We want everyone to know about all the great activities these lands have to offer."
A public opinion survey was administered to general District residents as well as to residents who are already frequent users of recreational lands. The key findings showed that people want to get outside more often. They want to walk or hike, and they prefer to do these activities with their friends and family. In addition, the research also showed that people's highest priorities when enjoying the outdoors are location and access, and the largest barrier is lack of time. Most survey respondents enjoyed just being outside and wanted to be able to easily enjoy the outdoors on the spur of the moment with very little planning.
"When we learned people just want to get outside more, the slogan naturally followed," said Dorian Morgan, District senior communications coordinator. "Many people don't realize these incredible natural spaces are so close to home."
Land Resources staff also held a stakeholder meeting to gain feedback from a diverse group of people who visit District lands on a regular basis. The group discussed topics including getting the message out that District lands are open for the public, engaging youth, and how to balance recreation and ecosystem protection.
"While the main purpose of our lands is protecting water resources, there is opportunity to balance this mission with public access and recreation," said Miller.
Based on the collective research, the "Get Outside!" campaign was developed.
To make recreation on public lands more inviting, Land Resources staff completed a series of improvements. They standardized property entrance signs and better identified access points and entrances. They also built new facilities or improved existing facilities, including attractive picnic areas, restrooms, kiosks and informational signs on lands throughout the District.
In addition, the 2009 edition of the District's Recreation Guide is now available. The guide has been updated with detailed information and a map of more than 50 properties owned by the District.
In support of National Public Lands Day, the nation's largest hands-on volunteer effort to improve and enhance the public lands Americans enjoy, the District will participate in a volunteer effort to remove air potato, trash and other debris at the Springs Coast Environmental Education Center along the Weeki Wachee River.
As part of the "Get Outside!" campaign, the District will be hosting three community events: Starkey Wilderness Preserve's Serenova Tract in Pasco County on November 7; Green Swamp Wilderness Preserve's Hampton Tract in Polk County on February 27, 2010; and Deep Creek in DeSoto County on April 10, 2010. The community will be invited to attend these family-friendly events that will feature activities such as nature hikes and scavenger hunts. The events will showcase District conservation lands with the hope that those attending come back with family and friends to enjoy on their own.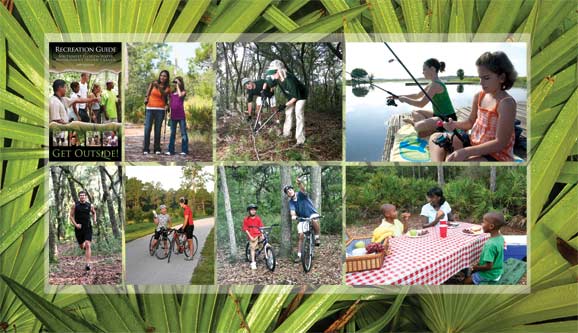 The 2009 Edition of the Recreation Guide Is Now Available!
The District's updated Recreation Guide provides detailed information and maps for more than 50 properties owned by the District. This 2009 edition features several new properties, physical addresses and more detailed property information. In addition, the bright cover coincides with the District's new recreation campaign, "Get Outside!"
The Recreation At A Glance brochure is available separately for a quick reference of all properties, including the counties in which they are located, their amenities and a Districtwide map. To order a free copy of the 2009 Recreation Guide or Recreation At A Glance, visit WaterMatters.org/resources/free-publications/ or call (352) 796-7211 or 1-800-423-1476 (FL only), ext. 4612.
District Gives Concierges a New Tool to Assist Guests
The District is also enlisting the help of hotel concierges to spread the word about District properties that are open for public recreation.
The District will distribute the 2009 edition of the Recreation Guide to hotel concierges as well as provide Recreation At A Glance brochures for the hotel rooms.
The materials will be made available to hotels and motels that participate in the District's free Water Conservation Hotel and Motel Program (Water CHAMP), which helps participating properties save water by encouraging guests to reuse their linens and towels during their stay.
More than 450 hotels, motels and bed and breakfasts within the District's 16 counties participate in this water- conserving program.
"We're building upon the relationship we have with our Water CHAMP participants," said Geralyn Ryan, Water CHAMP coordinator. "This valuable tool will allow hotel concierges to guide their guests to some great, natural places to experience the outdoors."
To find a hotel or motel that participates in Water CHAMP, visit the District's web site at WaterMatters.org/waterchamp/.