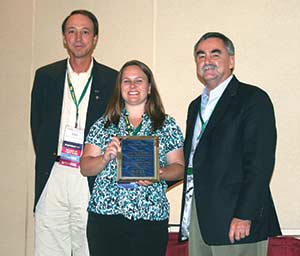 Veronica Craw, District environmental section manager, accepts the award from Blake Guillory, Florida Stormwater Association (FSA) president, and Kurt Spitzer, FSA executive director.
The Florida Stormwater Association (FSA) recognized District stormwater and restoration projects at the group's annual conference in June.
The Weeki Wachee Springs Stormwater, Sediment Removal, and Revegetation Projects are improving water quality in Weeki Wachee Springs.
The first phase focused on stormwater runoff. Stormwater ponds were constructed to capture and treat stormwater runoff from US Highway 19 and the Weeki Wachee Springs State Park's parking lot.
The second phase removed sediments, Lyngbya algae and other invasive vegetation and replanted native plant species. Lyngbya is an invasive algae that grows and spreads rapidly. It attaches itself to plants and the bottoms of water bodies, forming large mats.
The projects received the association's Excellence Award for Stormwater Projects, which recognizes governments that have demonstrated creativity, innovation and excellence in local water quality and flood control programs and projects.