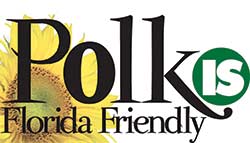 A Polk County Builders Association (PCBA) program aimed at teaching residents about Florida-friendly landscaping was recognized as a finalist in the nonprofit best practice category of the 2009 Sustainable Florida Best Practice Awards.
The "Polk Is Florida-Friendly" program, which received funding from the District's Alafia River, Hillsborough River and Peace River basin boards, promotes widespread adoption of Florida-Friendly Landscaping® best management practices including reducing water use and protecting water quality through proper landscape design, installation and maintenance.
As part of the program, the PCBA is working closely with Polk County's Natural Resources and Utilities departments, the cities of Lakeland, Winter Haven and Haines City, the Polk County Florida Yards & Neighborhoods program and the Friends of the Parks. The group plans to develop and distribute a map of Florida-friendly landscapes and demonstration gardens in Polk County as well as an illustrated list of plants most suited to the area. The PCBA will also create a PowerPoint presentation and DVD to use at workshops and community events.