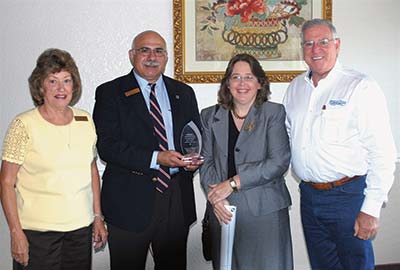 Left to right: Judy Whitehead, Governing Board member; Gene Schiller, deputy executive director; Elaine Kuligofski, human resources director; and Ronald Oakley, Governing Board vice chair, accepted the "Best Places to Work" award on behalf of the District.
For the third year in a row, the District was recognized by the Pasco-Hernando Jobs and Education Partnership Regional Board, Inc. as one of the best places to work in the area.
The District was named the best place to work in Hernando County among employers with more than 150 employees. One winner was chosen in each county for each size category. The categories are 1–50 employees, 51–150 employees and more than 150 employees. Employers were judged on diversity, turnover, compensation and benefits, and growth percentages.
"The current economic times greatly challenge the ability of all employers just to maintain their basic business operations, much less attract, retain and reward a diverse and high-performing work team," said Elaine Kuligofski, District human resources director. "The District meets that challenge through prudent stewardship of its financial resources, ongoing operational efficiency efforts and, most important, by never losing sight of the importance of continued investment in its most vital resource — its people."
During an awards ceremony in May, the winners were presented with a trophy and banner to display at their workplace.
The purpose of the award program is to provide vital information to local companies about the practices used to attract and retain employees. Employers that participated in the nomination process will receive a report providing the results of the survey and how they compare to other companies.