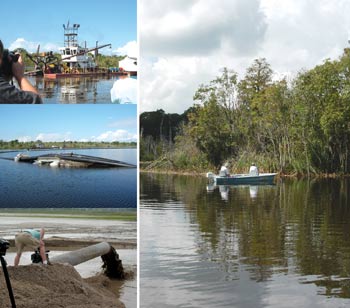 Above left: This series of pictures shows the dredging machine, the pipe through the lake that carried dredged material to the spoil site and the spoil site. Above right: Anglers enjoy Lake Panasoffkee.
The recently completed Lake Panasoffkee restoration project is being hailed as a huge success by Lake Panasoffkee residents and anglers.
The $26.9 million, ten-year project restored Lake Panasoffkee's historic fish bedding areas and lake shoreline by removing approximately 8.3 million cubic yards of sediment from over 1,744 acres of lake area. The project also improved navigation of the third largest lake in west-central Florida.
"The vision state Rep. Everett Kelly had ten years ago is now a reality," said Mike Holtkamp, District operations director.
In 1998, the state Legislature created the Lake Panasoffkee Restoration Council to develop a restoration plan for the lake.
Since the 1940s, 900 acres of open-water habitat had been lost due to the accumulation of natural sediments over the hard lake bottom. The additional sediment caused large portions of the lake to become shallow enough for emergent vegetation to take hold.
The buildup of sediment adversely impacted the historic fish spawning areas and limited navigation around the lake. But Jim Veal, a council member and owner of a fish camp on the lake, says the restoration project has had a positive impact on the fishing industry.
"The fishing reports we've been getting are overwhelming," said Veal. "One man who brought his grandson fishing said the project made it seem like he was going back in time 30 years."
The Lake Panasoffkee restoration project was divided into four steps. The first three steps, managed by the District, focused on dredging in the lake. The fourth step, managed by Sumter County, involved dredging the residential canals along the western shoreline of the lake.
Lake Panasoffkee is one of the District's Surface Water Improvement and Management (SWIM) Program priority water bodies and is designated as an Outstanding Florida Water by the Florida Department of Environmental Protection.
The project has been funded by multiple partners, including the state of Florida, the U.S. Environmental Protection Agency, the District's Withlacoochee River Basin Board and SWIM Program, the Florida Fish and Wildlife Conservation Commission, the Florida Department of Transportation and Sumter County.