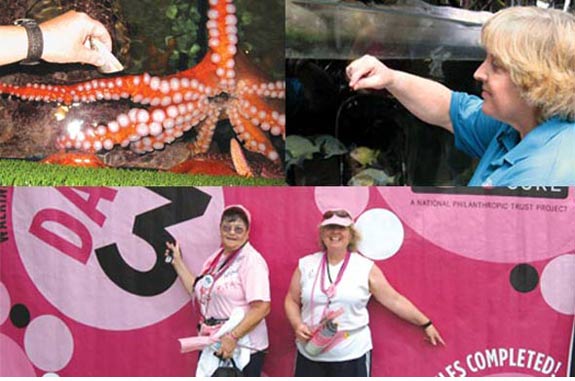 Top left: One of Morris' favorite creatures at the aquarium is Tako, a Pacific octopus. Top right: Lisann Morris, senior professional engineer, volunteers her time at The Florida Aquarium, feeding the fish and animals. Above: Morris and her friend, Doris Linney, celebrate completing the 60-mile breast cancer walk.
With more than 500 volunteer hours recorded, it's no surprise that Lisann Morris was awarded the District's Shining Star award.
For the past three years, Morris and her husband have dedicated almost every Saturday to volunteering at The Florida Aquarium in Tampa.
"It's nice to find volunteer work that both my husband and I enjoy doing," said Morris.
While volunteering at the aquarium, she has performed a number of different tasks within the "Ocean Commotion" and "Wetland" areas, which house everything from barracudas to egrets. She prepares the animal food, feeds the animals and cleans their exhibits. Her favorite part about volunteering at the aquarium is interacting with the animals, especially Lexie, the pelican, and Tako, the Pacific octopus.
"They have such unique personalities," said Morris. "Some days they're sassy, other times they're very attentive."
In addition to being recognized at work for her volunteer efforts, Morris was also nominated for The Florida Aquarium's Volunteer of the Year Award. She was one of 10 volunteers nominated by the aquarium staff, out of more than 300 volunteers.
She says the most important part about volunteering is she can give back to the community but still have fun while doing so.
This year, Morris also participated in the Breast Cancer 3-Day® event for the first time. The Breast Cancer 3-Day, which supports the Susan G. Komen for the Cure and the National Philanthropic Trust Breast Cancer Fund, is a 60-mile walk that helps raise money for breast cancer research and patient support programs. Morris raised more than $2,000 for the cause.
Morris is a senior engineer in the District's Resource Projects Department. She was nominated by Audrie Goodwin, District engineer.
"It's amazing to see Lisann juggle work, volunteering, caring for her family members as well as always being available to help her fellow coworkers," said Goodwin. "She's truly a shining star."