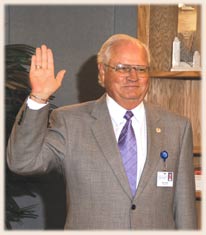 Douglas B. Tharp was sworn into office at the District's September Governing Board meeting.
Tharp, a retired industrial engineer who lives in The Villages, was appointed by Gov. Charlie Crist to represent Citrus, Lake, Levy and Sumter counties on the District's Governing Board. He will also serve as the co-chair ex officio of the Withlacoochee River Basin Board.
Tharp joins the Governing Board with a strong interest in the environment as well as in water conservation. He believes water is one of Florida's most precious resources.
The former Navy helicopter pilot also has more than 15 years' experience managing large government contracts and more than 10 years' experience as an outreach specialist for the Penn State Department of Engineering.
He is the past president of The Villages Homeowners Association and currently serves on the association's board of directors and the Villages Homeowners Charitable Foundation, Inc., which raises money for local charities and disaster relief.
Tharp's term ends March 1, 2011.