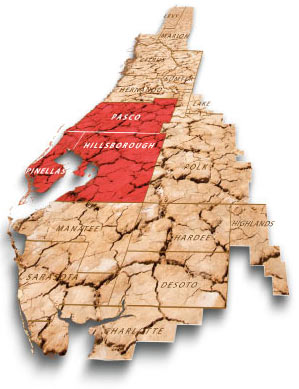 The District's Governing Board voted unanimously in October to tighten water restrictions in Hillsborough, Pasco and Pinellas counties.
The Governing Board was responding to a request by Tampa Bay Water, the region's wholesale water supplier, because its water supplies have not returned to pre-drought conditions.
"The Tampa Bay area is the most impacted region in the District," said David Moore, District executive director. "The water shortage order in the Tampa Bay area has been elevated from 'severe' to 'extreme.' "
The District remains impacted from two years of drought, and the region still has a 14-inch rainfall deficit for the past 24 months. All the water resources rapidly declined during the first month of the dry season. In addition, the U.S. Drought Monitor shows the region in abnormally dry to moderate drought conditions.
While groundwater levels are at the bottom of normal ranges, all major rivers in the District are below normal and lakes continue to be one to four feet below normal. Moreover, forecasts are calling for drier than normal conditions through next spring.
In the Tampa Bay area, the Hillsborough River reservoir, the main water supply for the city of Tampa, is near historic record lows for this time of year. The District granted emergency authorization to Tampa Bay Water to temporarily withdraw additional water from the Alafia River to meet public supply needs. However, the Alafia River is so low that it is no longer able to provide water for that purpose.
In addition to the dry conditions, Tampa Bay Water can only store six billion gallons of water in the C.W. Bill Young Regional Reservoir, which is about 40 percent of its capacity, until the cracks in the reservoir's soil-cement layer are addressed. Tampa Bay Water estimates that if the region does not receive above-average rainfall January through March, the reservoir will be depleted by late April or early May 2009.
"This is a serious situation and we're asking for everyone's help to conserve water," said Moore.
In addition to continuing to restrict lawn watering to one day per week, the new water shortage order calls for local governments to increase their education efforts and strictly enforce the rules. Additional restrictions include:
Restricting the time for hand watering or micro-irrigation for nonlawn landscaping to before 8 a.m. or after 6 p.m.
Postponing turfgrass renovation, such as replacing lawns, and taking other appropriate steps to avoid an increase in lawn or landscape water use.
Reducing the 60-day allowance for new plant establishment. During days 31—60, only every-other-day watering is allowed. Some cities or counties continue to have stricter allowances for new plant material.
Reducing the time aesthetic fountains and waterfalls may operate from eight hours to four hours per day.
Limiting the use of unattended line flushing by water utilities.
Requiring water utilities and other local enforcement officials to increase their enforcement efforts, including requirements to respond to citizen complaints and issue citations without having first issued a warning.
For more information about water restrictions, please visit the District's web site at WaterMatters.org or call 1-800-423-1476, ext. 4498, during normal business hours. To learn more about how you can conserve water, visit the District's web site at WaterMatters.org/drought/.