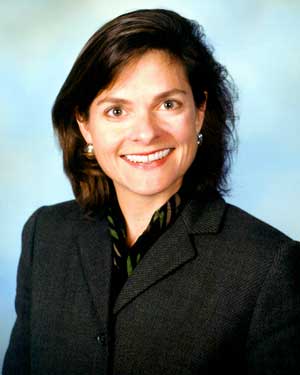 She couldn't help it; volunteering is in her blood.
In the summer of 2000, Heidi McCree had entered a new phase in her life. She resigned from her position as executive director of the Hillsborough River Greenways Task Force, wanting to devote more time to her family and her newly adopted son, Alexander.
Then came the call from the Governor's Office. "Have you ever thought about being a Governing Board member?"
"There was something within me … I just had to be doing something for the community. This was such a special opportunity to remain involved in the issues. Of course, I could not have made this decision and commitment without the support of my family," McCree said.
McCree was appointed to the Board in September 2000.
"I felt so honored and humbled. We have such a responsibility to all the citizens within our District. The decisions we make today affect our quality of life and the future environmental and economic sustainability of west-central Florida."
This year her peers on the Board gave her the ultimate honor, unanimously electing her as chair. She is also the first female chair in the Board's history.
The roots of volunteerism run deeply through her family — her parents and grandparents were heavily involved in their communities.
"All my life, from my earliest memories as a child, my parents and others in my family encouraged volunteer work," McCree said. "I saw through their actions how you can get involved, oftentimes play a leadership role, and truly make a difference."
Her family demonstrated by word and deed that one must give back to the community through service. Those early lessons took firm root and shaped McCree's core values.
"Growing up with that wonderful example, you understand what's important in life and what's fulfilling in life. Even in today's mobile, hectic lifestyles, you take those early lessons with you wherever you go," she said.
McCree was born in Holyoke, Mass., but grew up five miles outside historic Cazenovia, N.Y., an area surrounded by dairy farms, apple orchards and ski areas. She spent summers on nearby Skaneateles Lake in the Finger Lakes region, but it wasn't until she moved away that she truly appreciated the natural beauty and sense of place of the area.
"Looking back, that part of my existence really shaped my interest and enthusiasm for the natural surroundings and for trying to do my small part to improve the quality of life wherever I am."
She lived in upstate New York through high school, then her restive spirit looked for something new.
"I wanted to experience a different part of the country, to have an appreciation for a different landscape, history and culture. I chose the South."
McCree attended Vanderbilt University, obtaining a bachelor of arts degree in political science with a minor in history, combining her fascination with how government operates with a love of studying how different interests interrelate to make history.
Following graduation, McCree worked for a government relations firm in Washington, D.C., supporting a variety of clients and gaining a keen appreciation of the law. She also continued her volunteerism, joining the Junior League.
Three years later, McCree entered George Mason University School of Law. Working part-time to help put herself through law school gave her the opportunity to experience and explore various areas of law, but she found her interests kept returning to the environment and land use issues.
She received her law degree and passed the Maryland Bar with some initial thoughts of entering the private sector "…and riches," she laughed. Instead, the lure of service drew her to the public policy arena where she accepted the position of Assistant Chesapeake Bay Program Director.
"It was so exciting. I had a job where I could use my training and experience, but I could also really make a difference."
McCree held the position for three years through two governors, all the while promoting volunteerism. Like her parents and grandparents, she led by word and deed, volunteering for a program called Save Our Streams. The program uses citizen volunteers to collect water quality data year-round on streams. McCree used the program to develop a watershed education strategy involving citizens in the policy decisions for all tributaries flowing to the Chesapeake Bay.
In 1995 McCree moved to Tampa when her husband, Doug, a real estate banker, was transferred. Doug has since become president and chief executive officer of First Housing, a company that specializes in financing for affordable housing.
She initially worked for the Florida Department of Environmental Protection's Tampa office on the ecosystem management initiative targeting the Hillsborough and Peace rivers, then accepted the position of executive director for the Hillsborough River Greenways Task Force.
McCree's experience as Task Force executive director enhanced her appreciation of volunteers and solidified her belief in solving complex problems by consensus.
"It was an invigorating experience. We faced many challenges and achieved some long-lasting solutions by bringing together diverse parties, both public and private sector, rolling up our sleeves and working out the issues."
McCree admits that approach can be difficult and doesn't work in every situation. But when it does work, the results are long-lasting.
"You need the participation and commitment of all the parties to reach a true resolution. Otherwise, the problems simply keep recurring," said McCree, who is professionally certified in conflict resolution.
McCree will need all her talents as she chairs a Governing Board that is addressing complex water resource challenges in west-central Florida.
"We face amazing growth. Our biggest challenge is to ensure adequate water supply while also protecting and managing our natural resources," McCree said.
The Governing Board chair is a big believer in partnerships.
"We can ultimately succeed by leveraging funds and resources with other agencies and organizations to accomplish our water resource goals."
In the Tampa Bay area, she cited the partnerships that have led to reduced pumping in stressed well fields and the development of alternative water supplies.
"We need to celebrate our success and maintain the momentum, driving efforts such as the regional reclaimed water supply project toward completion."
Resolving water supply issues in the Southern Water Use Caution Area will rely on "partnerships, incentives and education. A real key is education. People who have good information are more likely to make good decisions," McCree said.
She also wants to ensure that the northern part of the District, which has not yet faced the water resource problems to the south, recognizes the lessons of the past and makes wise decisions that prevent resource problems.
Another challenge for the District involves land acquisition, a key component in protecting the water resources. Rising costs and heavier competition for land make it more difficult for the District to afford to acquire important properties. McCree has been heavily involved in the District's land acquisition and management program.
She is also proud of the District's water conservation and education efforts, especially those directed to the children who are the future of the District.
"On a personal level, it's so exciting for me when I see the impacts of our District educational efforts in my own home. My son Alexander has really taken to the District's mascot Ripply. He calls Ripply 'Water Drop' and often when we're talking about not wasting water, we'll ask, 'What would Water Drop think?'"
Being chosen chair by her fellow Board members is an honor and an inspiration for McCree. She has great respect for the diversity of experience and leadership each member brings to the Board. While she recognizes the unique nature of being the first female chair in this District's history, that was not her primary goal.
"It was just time for it to happen. It's certainly an honor to be the first and it's right to celebrate the milestone, but now it's time to move past that. We have more women on the Board now, so I'm sure we'll have more female chairs."
Every Governing Board member is an unpaid volunteer who agrees to sort through volumes of information and make difficult decisions. Governing Board officers, and especially the chair, face even more responsibilities. McCree sees her role as one of a communicator and a facilitator.
"The chair needs to understand all the issues, articulate those issues, encourage full Board dialogue and work with the staff to aid in implementing the Board's policy direction."
McCree somehow finds time in addition to her full-time volunteer role as Governing Board chair to raise a family and expand her volunteer efforts. In addition to Alexander, now 6, the McCrees adopted a baby girl, Elizabeth, who is now 15 months.
"Doug and I are truly blessed. We chose the international route, adopting both children from Russia. Of course I'm biased, but they are beautiful kids," she laughed.
She also maintains a full volunteer agenda. McCree is a member of the Florida Greenways and Trails Council, Tampa Bay Conservancy, Audubon Society and the Mayor's Beautification Program. She is also active in church and school activities.
McCree praises the dynamic leadership of the Governing Board members and the professional and dedicated staff for providing a leadership role in water management.
"Our staff is wonderful and capable of accomplishing great things. I was so proud last year during all those hurricanes. Our staff rose to the challenge and went above and beyond the call of duty. What an inspiring example of community volunteerism."
She wants to continue and expand on past successes.
"I want to promote the District as a scientific resource for policymakers at all levels of government. Science is, rightly so, at the core of all our water policy decisions."
And community service is at the core of who Heidi McCree is; it's in her blood.