Super Support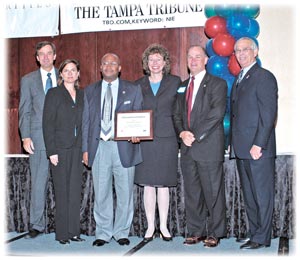 Two organizations recently recognized the District for its continued support of Nature's Classroom, an environmental education center located on the District-owned Lower Hillsborough Flood Detention Area property.
Each year environmental education field trips to Nature's Classroom provide approximately 13,000 sixth-grade students in Hillsborough County with a three-day, hands-on field study experience focusing on the hydrology and ecosystem of the Hillsborough River.
Hillsborough Education Foundation's 13th Annual Business Partnership Awards
The District received a special recognition award at the Hillsborough Education Foundation's 13th Annual Business Partnership Awards Celebration Breakfast for being the largest single donor to Nature's Classroom and for its continued support of the environmental education program.
Last year the District's Hillsborough River Basin Board approved $904,717 for facility renovations, which can be reimbursed through the state's Water Management Lands Trust Fund. Many of the Nature's Classroom facilities were built in 1969 and were in dire need of renovating or replacing. In addition, modifications were needed to meet the guidelines of the Americans with Disabilities Act.
The District annually budgets $40,000 for water resources education programs at Nature's Classroom for students from Hillsborough County public schools. Since 1994, the District has contributed $446,219.
National Philanthropy Day
The District was also honored during a National Philanthropy Day Awards event in Tampa by being nominated for the Spirit of Philanthropy Award and the Philanthropic Corporation of the Year Award. The Suncoast Chapter of the Association of Fundraising Professionals nominated the District.
More than 250 non-profit organizations are represented in the Suncoast Chapter, which includes Polk, Pasco, Pinellas, Hernando, Sarasota, Manatee, Citrus and Hillsborough counties.