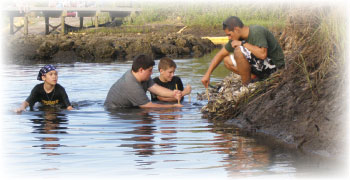 Boy Scout "D.J." Ortiz of Troop 203 (right) guides scouts as they place oyster culch bags to help the eroding shorelines of three islands of the Camp Bayou Restoration Project.
Those oyster shells you leave behind after ordering at your local restaurant just might help reduce stormwater erosion for our shorelines.
That's what Boy Scout Daniel "D.J." Ortiz of Troop 203 recently discovered when he completed his Eagle Scout project at Clam Bayou in Pinellas County. The Wesley Chapel teen spent more than 70 hours of time researching a way to help the eroding shorelines of three islands of the Clam Bayou Restoration Project.
His efforts contributed to the Clam Bayou Habitat Restoration and Stormwater Treatment project recently completed by the District. The Surface Water Improvement and Management (SWIM) project was needed because urban areas around the bayou were developed prior to stormwater regulations. This has increased the amount of trash, sediments and pollutants entering the estuary.
Ortiz guided about 20 scouts in a project to reinforce three shorelines with the placement of 200 oyster culch bags, which are netted bags designed to hold shellfish. Ortiz said over time, the oysters will harden together and the bags will disintegrate, providing the shoreline with protection from stormwater erosion.
Ortiz, 17, completed the project with the help of staff from SWIM and Tampa Bay Watch, which provided the oyster shells donated from local restaurants. Ortiz said the project required more than 70 hours of planning and four hours of work at Clam Bayou.
"I really didn't know much about oyster restoration projects until this. I learned a lot," Ortiz said. "It also taught me a lot about leadership."
Brandt Henningsen, the District's chief environmental scientist, was impressed by Ortiz's project.
"This was a pretty darn ambitious project, and D.J. did a great job," he said. "I am hoping that other scouts from his troop will pick up where he left off and continue to reinforce the island shorelines with additional culch bags, as there is still plenty of shoreline in need of additional protection."