The District's response team jumps into action to help the Suwannee River Water Management District with flooding in its area. (Photo courtesy Paul Buchanan)
As Tropical Storm Debby churned in the Gulf of Mexico in June, it brought record rainfall, flooding and damage to various areas of the District.
As part of the District's core mission of flood protection, staff immediately responded to the needs of the community in a variety of ways.
The District's water control structures were monitored around the clock by Structure Operations staff, opening gates in areas where relief was needed. Some areas in Pinellas, Pasco, Hernando and Citrus counties experienced flooding during a 24-hour period that likely only occurs every 50 to 200 years.
Overall, the District did not have to operate many of its water control structures because most water bodies were below normal prior to the storm. June is the start of the annual summer rainy season when water resources are normally at their lowest levels of the year. The region also has been experiencing a drought this past winter and spring.
But one key area that did need response was Lake Tarpon in Pinellas County.
The District received more than 150 calls from residents when neighborhood streets and yards around the lake became flooded. The District worked to move water out of Lake Tarpon but Debby's slow path and sustained winds hampered the process.
Those winds and high tides caused by Debby pushed water in from Old Tampa Bay, making it difficult to move water out through the Lake Tarpon Outfall Canal. The three-mile canal extends from the south end of Lake Tarpon and empties into Old Tampa Bay. The structure is designed to prevent salt water from entering Lake Tarpon during high tides and protects the lake's freshwater ecology.
Normally, water levels in the lake are three to four feet higher than water levels in the bay. However, due to the sustained high tides caused by Debby, there was only about a six-inch difference in water levels, leaving very little room to release water from the lake.
"We did the best we could to move the water out of the lake, but the wind and tides pushing water in from the bay forced us to close the gates periodically to prevent saltwater from intruding the lake," said David Crane, District Structure Operations manager.

From left to right: A District crew prepares a site for pumping operations (photo courtesy Paul Buchanan); the District provides a sandbagging unit and 1,000 sandbags to Hernando County Public Works; flooding from Sparkman Lake; structure controls analyst Mike Bartlett shows off how the District can monitor structures remotely from Brooksville headquarters. 
The District offered assistance in other ways such as providing a sandbagging unit and 1,000 sandbags to Hernando County Public Works. Staff also repaired sinkholes in the Masaryktown Canal and several other canals and structures that saw erosion from flood waters.
Operations and Land Management also sent staff to Live Oak to help the Suwanee River Water Management District (SRWMD) with flooding. Staff assisted SRWMD with pumping out flood waters that surrounded SRWMD offices and a public health building in Live Oak.
In addition, Operations and Land Management staff also did field inspections for vegetation blockages at some of the water control structures.
The District captured 285 square miles of aerial imagery to assess flood conditions. The District also reached out to local county administrators and EOCs to offer assistance with expedited permitting and equipment as well as technical expertise and data. Operations and Land Management personnel also traveled to Tallahassee to staff the State EOC.
But Debby's visit wasn't all bad. Areas of the District received up to 16 inches of total rainfall during the three-day period of the tropical storm, providing some much-needed relief to drought conditions.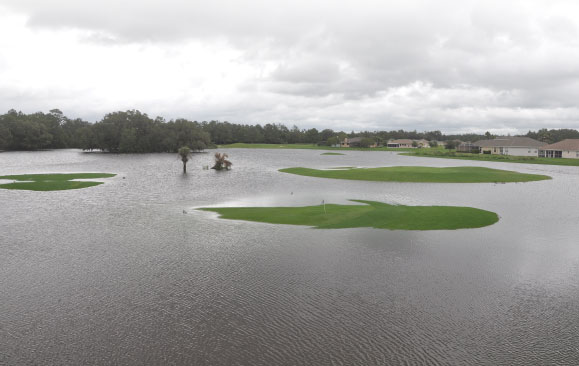 Rivard Golf Course gets flooded by Debby.