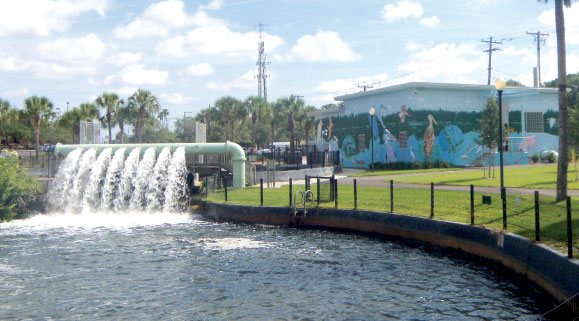 District staff and City of Tampa officials recently celebrated the opening of the Sulphur Springs Weir and Pumping Station.
Engines hummed and water gushed marking the completion of a joint project and the beginning of new life for the lower Hillsborough River.
District staff and City of Tampa officials recently celebrated the opening of the Sulphur Springs Weir and Pumping Station. The joint venture between the agencies began in 2007 when a recovery strategy was developed because the river wasn't meeting its minimum flows.
The opening of the weir and pumping station is one of a half-dozen recovery projects necessary to help increase minimum flows to the lower Hillsborough River.
Since the 1970s, there have been prolonged periods when there has been no flow past the City of Tampa's Rowlett Park dam because the water extensively is used as a resource for Tampa residents. That meant the river below the dam saw increased salinity levels, which stressed many plants and animals that rely on tidal freshwater and low salinity habitats.
With the opening of the new pumping station, the water being pumped from the spring will provide flows to the lower Hillsborough River. This will improve circulation and water quality and create low salinity habitats below the dam, which will benefit a wider variety of fish and wildlife.
Blake Guillory, the District's executive director, noted that the project is a great example of what can be accomplished when agencies and local governments partner together to manage precious resources.
"The Hillsborough River is the lifeblood of our region," Guillory said. "It not only provides a water supply but it is a treasure of a natural resource."
The project cost $5.3 million of which the District paid half. It is designed to revive the river without affecting the dam. The result should be a healthier, more biologically thriving Hillsborough River, according to Sid Flannery, the District's chief environmental scientist.
"This project will allow us to divert the maximum amount of spring water to the base of the dam while still maintaining minimum flows to Sulphur Springs Run," Flannery said. "This will increase the number of low-salinity habitats in the river in the dry season and help us maintain fish and wildlife populations that rely on those areas of the river."
Other planned projects also will help with the recovery of the river. Those include using water from the Tampa Bypass Canal, Morris Bridge Sink and Blue Sink to refresh the Hillsborough River.
Tampa Mayor Bob Buckhorn said the projects may not seem exciting to residents but are necessary.
"They aren't sexy, but a healthy river equals a healthy city," he said.