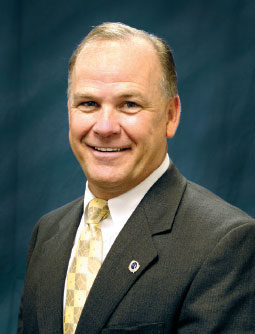 District Executive Director David L. Moore resigned May 26. He will continue temporarily in the role to help facilitate the successful transition of the next executive director.
Moore, who was appointed executive director in March 2003, says he feels he is leaving the District at the right time.
"The past eight years have been extremely rewarding," said Moore. "From developing large-scale alternative water supplies and reclaimed water to dealing with droughts, hurricanes and an unprecedented freeze, I'm extremely proud of what the District has been able to accomplish. Now I'm ready to transition into the next chapter of my life, which will include spending more time with my family."
Moore began his career at the District in 1984 as a hydrologist, working his way up through the leadership ranks as a project manager, manager, director and deputy executive director.
During Moore's tenure he has played a key role in restoration and preservation of water bodies, establishment of minimum flows and levels, watershed assessments, maximizing the beneficial use of reclaimed water, development and implementation of regional water supply plans, land acquisition and management activities, data collection network establishment and revision of permitting rules.