Nearly 400 board members and property managers of community, condominium and homeowners associations attended recent workshops to learn more about a new water conservation law signed by Gov. Charlie Crist last summer.
The District partnered with the University of Florida's Institute of Food and Agricultural Sciences (IFAS) to facilitate seven workshops in six counties to provide information about the new law and Florida-friendly landscaping. Known as Senate Bill 2080, the law prohibits homeowners associations (HOAs) from banning Florida-friendly landscaping in their communities. The new guidelines sparked many questions from HOA officers about how they could continue to protect property values and community aesthetics and still be within the law.
The law states, "The Legislature finds that the use of Florida-friendly landscaping and other water use and pollution prevention measures to conserve or protect the state's water resources serves a compelling public interest and that the participation of homeowners associations and local governments is essential to the state's efforts in water conservation and water quality protection and restoration."
The first portion of the workshops discussed what the law does and does not do.
"Under this law, your HOA rules may not forbid Florida-friendly landscaping," said District Communications Director Michael Molligan. "But it doesn't mean anything goes. You can still set standards or boundaries for your communities, as long as those standards don't preclude someone from having a Florida-friendly landscape."
Molligan urged the HOA officers to be as flexible as possible with those standards while still maintaining community aesthetics.
One of the most common questions during the workshops involved turf. Can an HOA require a certain type of turf or a certain percentage of the landscape to be turf? Florida-friendly landscaping does not specify types of turf or percentages. It does require the right plant for the right place. If an HOA requires a type of turf that isn't appropriate for a particular site, that would be a violation of the first principle, "Right Plant, Right Place," and would be inconsistent with the law. Similarly, under the law, an HOA could require a certain percentage of turf as long as the rule was not violating "Right Plant, Right Place" or any of the other Florida-Friendly Landscaping™ principles.
While the law would allow for HOAs to set percentages of various types of plant materials, Molligan reminded the audiences that the District's goal is to reduce the amount of high-volume irrigation in landscapes. These high-volume irrigation systems are less efficient than micro-irrigation. With up to 50 percent of residential water usage going to landscape irrigation, a significant water savings could be realized by reducing the percentage of landscapes using high-volume irrigation systems.
The second portion of the workshops was dedicated to an explanation of the origin and principles of Florida-friendly landscaping, led by IFAS staff and local Florida Yards & Neighborhoods coordinators. IFAS created the principles of Florida-friendly landscaping to encourage use of low-maintenance plants and environmentally sustainable practices. If done correctly, Florida-friendly landscaping becomes an asset to the neighborhood as well as the environment by protecting natural resources and preserving the state's unique beauty.
In today's economic climate, using a water-conserving Florida-friendly landscape can actually increase the marketability of a home.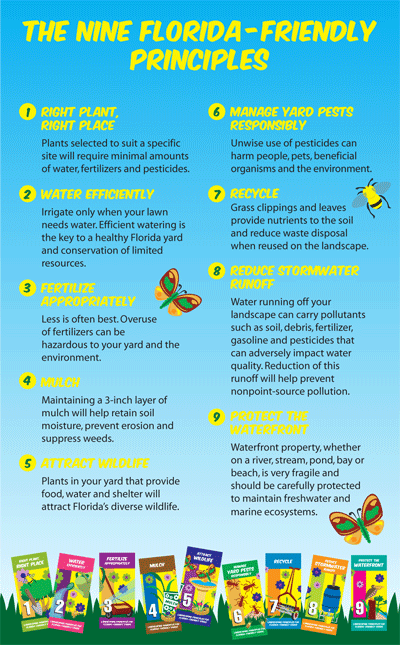 The Facts on SB 2080 and HOA Landscaping Practices
(373.185, Florida Statutes, and other chapters)
Homeowners association (HOA) covenants, restrictions and ordinances may not prohibit Florida-Friendly Landscaping™ practices.*
Does not invalidate HOA architectural control committees or landscaping committees. It does apply reasonable limits.
Prohibits HOA mandates that require:

Water-wasting practices such as overwatering of plants or inappropriate site design.
Inappropriate placement of plants such that regular irrigation is required to keep the plants healthy.
Excessive or improper fertilization.
Excessive use of pesticides.
Violation of water management district water use restrictions.

Forbids prohibitions on:

Reasonable and appropriate use of mulch.
Plants attractive to wildlife such as butterfly or hummingbird gardens or other non-nuisance wildlife.
Attractive, well-suited plants in the landscape in favor of other plants that are less suitable to the site (wrong plant, wrong place).
Swales or rain gardens, waterfront buffers or other protective practices.
Composting bins, rain barrels, etc.

Does not prohibit reasonable limits on Florida-friendly landscaping, such as requirements to be well maintained, or limit particular elements of a Florida-friendly landscape — such as a butterfly garden, composting bin or rain barrel — to a backyard, side area or screened area, where feasible.
*The U.S. Supreme Court has determined that the police powers of the states to protect public health and welfare may trump private contracts.