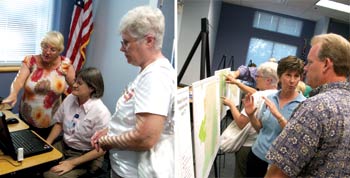 Left: Margit Crowell, District senior hydrologist, uses GIS technology to locate residents' property in relation to the dam flood inundation area. Right: Lesley Touchton, District emergency operations coordinator, shows a resident his property on the Medard Reservoir Dam flood map.
Three sirens were recently installed downstream of the Medard Reservoir as an additional safety measure for the unlikely event of an emergency at the reservoir dam. This new outdoor warning system is now audibly tested on a monthly basis.
The District partnered with Hillsborough County to hold two public meetings in September to inform area residents of the new testing schedule and to answer any questions regarding the reservoir, the sirens and associated emergency procedures. The District sent letters to nearly 10,000 homes informing them of the new sirens and testing schedule and inviting them to attend a public meeting. Information was also distributed to local television, newspaper and radio news media.
Representatives from the District's Operations, Communications, and Community & Legislative Affairs departments, as well as staff from Hillsborough County's Sheriff's Office, Emergency Management, and Parks, Recreation and Conservation departments were present at the meetings to speak with residents and answer questions. Large-scale maps were on display where attendees could locate their property in relation to the dam flood inundation area. District staff addressed reservoir and dam flood questions while Hillsborough County staff discussed evacuation routes and emergency preparedness. A presentation on the history of the Medard Reservoir and Park was also available for residents to view throughout the meeting.
"The attendees seemed pleased with the information presented to them," said Lesley Touchton, District emergency operations coordinator. "We will continue our outreach program to educate residents about the Medard Reservoir and outdoor warning system."
The monthly siren tests occur the first Saturday of each month at noon and last for 15 seconds.