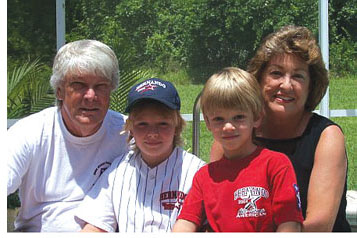 Judy Whitehead, Governing Board chair and chair ex officio of the District's Coastal Rivers Basin Board, and her husband, Don, enjoy spending time with their grandsons, Pierson and Daniel.
Judy Whitehead was surprised and gratified that her fellow Governing Board members thought enough of her to elect her as their chair.
"I'm not particularly brilliant or knowledgeable. I'm just a small-town grandma," she said.
Despite her modesty, her fellow Board members recognized her leadership skills, unpretentious manner, straightforward approach to problem solving and willingness to learn. While she is a "small-town grandma," Judy's history paints a portrait of a smart and skilled businesswoman who achieved success in multiple careers.
Judy is a third-generation Florida native whose grandparents were born in Citrus County in the late 1800s. She was born in Bartow, moved to Brooksville when she was five years old and graduated from Hernando High School.
"Hernando County was a much smaller place then. Only one high school, no I-75," she said.
Ironically, one of her first jobs while in high school was part-time typing for a newly created government agency that temporarily located in rented office space in downtown Brooksville. Forty-five years later, the part-time student typist would become the chair of that agency's Governing Board.
Judy enjoyed growing up in small-town Brooksville with its good schools, good hospital and strong leadership and support from people such as Alfred McKethan and the Lykes family.
"I think we were the luckiest of all people. Some families had money, some didn't, but everyone was an important part of the community."
Judy's family was "strictly middle income." Her father was a state road department engineer who later became the county road engineer.
"Dad could eyeball a road and tell you how many yards of asphalt were used in its construction."
Her mother worked part-time at the schools; then later, following a divorce, went to night school to learn how to type so she could support her family. Her mother encouraged Judy to go into business, to be a professional.
"My parents grew up during the Depression. They wanted their children to be able to work and support themselves. They encouraged independence."
Her father helped her to secure a loan for her first car, but she was responsible for paying off the debt — an early lesson in self-reliance.
After high school, Judy attended the Business University of Tampa for about a year and then got a chance to be a secretary for the district manager of Delta Airlines. She stayed with Delta in a variety of positions for several years, working in Miami, Tampa, Atlanta and Jacksonville, before moving to Philadelphia to serve as a manager in the corporate division of Rosenbluth Travel, the largest privately owned travel agency in the United States.
The airlines and travel agencies used one of the earliest email-type systems. The emails were called "queues" because they queued up for transmission and were sent all over the world on phone lines.
"When we had a breakdown in communications and we weren't getting data, I might have to deal with 10 different phone companies to resolve the problem. It was a nightmare," she laughed.
It was while in Philadelphia that she was divorced, returned home to Brooksville and married her high school sweetheart, Don Whitehead. They've been married now for 23 years.
"We both ended up single at the same time. I had two teenagers and wanted to be nearer to family, so we moved back to Brooksville. Besides, Philadelphia was very expensive. It was great to be back home and to look out and see the woods and cows."
Judy sold real estate for eight years. Her husband, Don, is a real estate broker. Eventually, her interests shifted to appraisals. In 1993 she became a certified real estate appraiser. She opened her own office in 1998 where her stepson, Donnie, now works with her.
Her son, Danny Miller, is a licensed surveyor for Coastal Engineering in Brooksville. Her daughter, Tracy Frazier, and daughter-in-law, Angela Miller, teach at Challenger School in Spring Hill.
Many District employees know Judy from the local Little League ball fields where she goes to watch her grandsons, Daniel and Pierson, play baseball.
When she opened her business, she realized she needed to network, so she joined the local Rotary Club. A Rotarian asked her one day if she'd be interested in being on the District's Coastal Rivers Basin Board. Always ready to learn new things, Judy applied for the position and was chosen to fill out the remaining two years of the term.
"I just thought it would be fascinating. I had no idea what all these employees, all these scientists and engineers, did. And there was so much to learn about the environment."
Two years later she had just been reappointed to the Basin Board when she got a call from Gov. Jeb Bush's office asking her if she would be interested in being on the Governing Board.
"I had enjoyed the Basin Board so much that it seemed like a natural progression."
Judy would soon learn that the transition from volunteer Basin Board member to volunteer Governing Board member would come with many additional responsibilities.
"Out of the frying pan, into the fire. There's so much to do. And we're voting on things that have such a huge impact on people's lives and tax dollars."
One of the biggest learning curves involved regulation. Basin Boards are not involved in regulatory issues, but the Governing Board approves all large water use and environmental resource permits and develops rules that guide the District's regulatory decisions.
Realizing she didn't know much about regulation, Judy used the straightforward approach that she employs for tackling any challenge. She asked to serve on the Governing Board's Regulation Committee and became the chair.
"I did a lot of reading and listening. Sometimes I'd read that Governing Board packet three times trying to understand everything," she laughed.
"But if I'm going to make an important decision, one that's going to affect people's lives, I have to fully understand the issues."
Her willingness to invest her time and her energies to master complex issues paid off with escalating responsibilities on the Board, culminating in becoming chair. Being on the Board, and especially as an officer, means a lot of extra work for the volunteers and less time with family and friends.
"I'm very lucky. I've received huge support from family and friends. Without that support, it would be much more difficult to commit to the time necessary to do a good job."
Judy said she is especially appreciative of her husband's support. "He's very proud of me and pleased about my work on the Board. And it could be difficult in some situations to be Mr. Judy Whitehead, so to speak. Thankfully, he's a very self-confident and assured person."
During her rare free moments, Judy loves being outdoors — at the beach, fishing, gardening, reading — like the young girl growing up in rural Brooksville. She would love one day to take art lessons. She recently hosted her high school's 45th reunion at her home where about 40 of the 81 students in her graduating class attended.
Although her hometown and county look much different today than they did during her high school years, Judy said she doesn't mind the changes.
"We're still away from the major city and suburban areas. And we've benefited from the development to the south of us. We can learn from their mistakes."
The capacity to learn and grow is a constant theme in the life of the "small-town grandma" who returned to her roots, married her high school sweetheart and revisited her first employer to assume the top leadership role for managing and protecting the water resources in west-central Florida.
Judy Whitehead has come full circle.