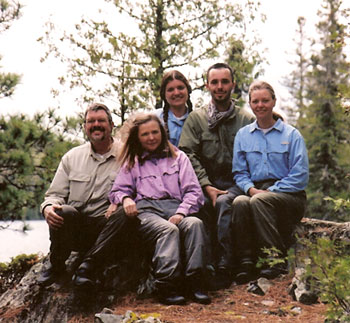 John Parker (left), his wife Leslie, daughters Melissa and Jessica, and son-in-law Dylan Nugent gather near "Other Man Lake" in Quetico Provincial Park.
Sadness spread across the District's Brooksville Headquarters as coworkers learned about John Parker's death in a car accident in May.
"When you spend more than 20 years working with someone on projects that define your life, and when you share in a common goal, you have a bond, even if you didn't hang out after work," said Bruce Wirth, a District deputy executive director.
Before Parker began working at the District, he and his wife Leslie were teachers in the Hillsborough County school system. The two met and married at the University of Arkansas and moved to Tampa after graduation. During their summer breaks, they took extended canoe trips in northwest Ontario, Canada.
Parker left teaching when the couple started a family, and he was hired as a hydrologist at the District in September 1985. He was promoted several times, eventually becoming the District's water use permitting manager.
David Sauskojus, District senior environmental scientist, remembers how Parker greeted everyone with a smile and how he enjoyed his work, especially when it involved real science.
"When we worked together on water use permits, he would show me data, graphs and charts that he had created or found to help us in our decisions," said Sauskojus. "He was careful to draw conclusions based on the data instead of finding data to support his preconceptions."
Parker earned his master's degree in geology from the University of South Florida while working at the District. Leslie Parker says that while completing his thesis was a long and arduous task, he never tired of it because he loved the science.
When the couple's children were old enough, the Parkers shared their love of the Canadian wilderness with them, returning to Quetico Provincial Park in northwestern Ontario to camp and canoe. The family calls the park "the closest place to heaven on earth."
"Anyone who knew John knew those summer adventures with his family and his steady faith spurred him on to be a public servant and a guardian of the water resources," said Leslie Parker.
Faith was also very important in Parker's life. He was known for being a man of great faith who served as an elder at Faith Evangelical Presbyterian Church in Brooksville.
Beth Putnam, District communications manager, knew Parker for more than 20 years.
"He's always been an exemplary role model for the youth at our church, teaching Sunday school, serving on the youth leadership team and chaperoning youth mission trips," said Putnam. "John truly walked the walk, showing the youth what it meant to be devoted to his family and to the Lord."
Parker's managers say they will miss his dedication at work.
"He truly believed in the District's mission to protect water resources," said Bobby Lue, regulation director.
Perhaps Heidi McCree, Governing Board member and Hillsborough River Basin Board chair ex officio, summed it up best when she spoke about Parker at a recent Basin Board meeting.
"John's passing is a great loss to the District and to the community at large."