Excellence in Engineering
District employee Bill Hartmann recently received a pat on the back from his peers. Hartmann, who is a member of the American Society of Civil Engineers (ASCE), was named the Government Engineer of the Year for 2002–2003.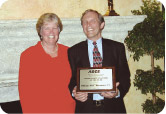 Hartmann was presented with the award at the annual dinner for the ASCE and the Florida Engineering Society. The award is for the ASCE's Florida Section-Ridge Branch. There are about 100 members in the Ridge Branch section, which includes all of Polk County.
Hartmann has been a member of the ASCE for about 30 years, since he was attending the University of Pittsburgh. He became actively involved in the Florida ASCE in 1990 after moving here from Pennsylvania.
Winning this award qualifies Hartmann for the state Government Engineer of the Year, which will be presented at the annual ASCE meeting in Jacksonville.
"Working in a regulatory environment doesn't lend itself to a lot of praise from your peers, especially from consultants in the private arena who are being regulated. So when you get an award like this, it is very humbling and gratifying to me," said Hartmann.
Hartmann is the Surface Water Manager of the Bartow Regulation Department. He's been with the District since Oct. 1988 and says his primary goal as a government engineer is to serve the public with professionalism and competency.
"Over the years, the District has earned a stellar reputation for providing accurate information and guidance to folks who rely on us for making a decision ranging from where they build their home to where to locate a multi-million dollar facility with regional impacts."
Hartmann also believes one of the reasons for his success is the excellent team he works with in Bartow.
"It takes everyone working together to pursue the goals of the District and provide the type of quality service that the community has come to expect from us."