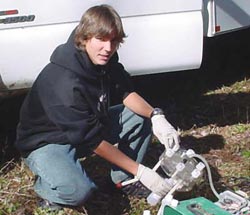 Roger Araya spent several weeks with the Resource Conservation and Data Department collecting water samples and learning about water quality.
While many high school students spend their summer breaks doing anything but preparing for their futures, Roger Araya chose to plunge headfirst into the world of water resources.
A recent graduate of Arenal Guanacaste High School in Costa Rica, Araya received some hands-on experience as a temporary addition to the District's Resource Conservation and Data (RCD) Department this winter. In Costa Rica, summer break stretches from the end of December through February.
The native Costa Rican teen took advantage of an opportunity to volunteer at the District on a recommendation by Eric DeHaven, RCD director and longtime friend of Araya's family.
"The possibility of spending a few weeks seeing one of the agencies in charge of water management in Florida appealed to me since water concerns are growing in Costa Rica, especially along the coast where so many new vacation homes and hotels are under construction," said Araya. "I learned the importance the state of Florida places on water resources."
During Araya's time at the District, he studied water quality sample collection projects. He volunteered in the field, collecting water samples from wells and lakes to analyze and monitor saltwater intrusion. He also worked with data manipulation and analysis to graph trends in water quality in springs. Tracking this information allowed him to understand how increasing nutrients impact springs.
"Roger received a hands-on lesson in some of the District's water resource issues," said DeHaven. "He had the opportunity to learn data collection techniques, perform data analysis and interact with District staff."
The District offers several programs that encourage diversity and provide career experience to college students and recent graduates.
Araya was recently accepted to the Latina University in Santa Cruz, Costa Rica, where he plans to earn a degree in computer technology. After he completes his degree, he plans to apply his education in an agency that uses technology to research and address environmental resource concerns.