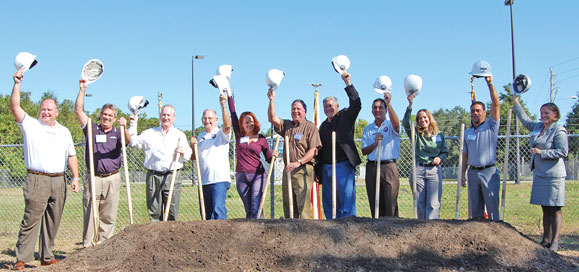 Todd Pressman, Pinellas-Anclote River Basin Board co-chair, third from left, joins the Oldsmar mayor, city council and utility staff for the groundbreaking of the city's reverse osmosis plant.
District Board members and Pinellas County, Oldsmar and District staff were on hand as the city of Oldsmar broke ground on its reverse osmosis water treatment plant.
The plant, capable of producing two million gallons per day, is part of a $20 million project to provide the city with an alternative water supply. The brackish groundwater supply facility will help the city reduce its dependence on fresh groundwater currently purchased from Pinellas County and imported from Tampa Bay Water's central wellfield system.
The project includes the reverse osmosis facility, 12 production wells at six sites to supply brackish water for treatment, and a byproduct injection well. Contractors have completed the 12 production wells. Construction of pipelines and the injection well are under way, with the project currently under budget and scheduled to begin producing drinking water next year.
The city of Oldsmar is funding the project with the help of a $9.1 million grant from the District's Pinellas-Anclote River Basin Board. The Basin Board is also assisting with a similar project in Tarpon Springs and a second reverse osmosis plant in Clearwater. The Oldsmar plant is on track to be the first brackish groundwater supply project built with cooperative funding from the District.