As the Invasive Plant Threatens to Gain a Foothold in the Green Swamp, Agencies Cooperate to Fight It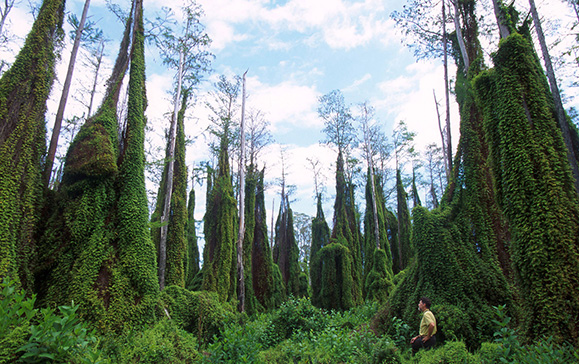 Photo courtesy USDI National Park Service
With threats from new invasive plants and animal species continuing to rise in Florida, the District is battling to keep Old World climbing fern from infesting the 560,000-acre Green Swamp.
Old World climbing fern, a new invasive vine, is spreading northward from south Florida and has been detected and treated as far north as Hernando, Lake and Sumter counties. Some infestations have been found within the Green Swamp.
Lygodium microphyllum, or Old World climbing fern, is native to Africa, Asia and Australia and was first found in south Florida in the late 1950s. Dense mats of the vine can cover and eventually kill trees, shrubs and plants, degrading wildlife habitats. The flammable vine also poses a fire danger by carrying fire into wetland and swamp areas that normally help contain controlled burns and wildfires. Trees covered by the vine burn up to the treetops, which can result in the death of even the most fire-tolerant trees.
"If we allow Old World climbing fern to become firmly established, it will be very difficult to control due to the size and remote nature of the Green Swamp," said Brian Nelson, District aquatic plant manager. "It's going to take an ongoing cooperative effort to treat infestations on both public and private lands because the vine's reproductive spores can become airborne and travel across property lines."
The District is partnering with a variety of public and private agencies including The Nature Conservancy, the Florida Department of Agriculture, the Florida Department of Environmental Protection, the Florida Fish and Wildlife Conservation Commission, the U.S. Fish & Wildlife Service, and the counties of Lake, Polk and Pasco.
The District and its partners have established a process for early detection and treatment of new infestations of Old World climbing fern within the boundaries of the Green Swamp ecosystem. This process includes conducting ground and aerial surveys and talking to landowners and community groups. Spraying the vines with herbicides is currently the best method to treat and eradicate them. Treated infestations usually require monitoring and re-treatment.
Landowners and residents can join in the fight by learning to identify Old World climbing fern, which can be easily confused with the more common Japanese climbing fern. Visit WaterMatters.org/oldworldclimbingfern to view photos of both species. Infestations of Old World climbing fern in the Green Swamp area should be reported to District Aquatic Plant Manager Brian Nelson at 1-800-423-1476, ext. 4537, or Rosalind Rowe with The Nature Conservancy at (941) 320-4363.
The Green Swamp is the largest undeveloped tract of land in the region, located in portions of Hillsborough, Pasco, Hernando, Polk, Sumter and Lake counties. The District owns 110,000 acres of the Green Swamp, known as the Green Swamp Wilderness Preserve, to protect the land and water resources. The Green Swamp serves as the headwaters of four major rivers; therefore, protecting the swamp is vital to protecting the region's water supplies.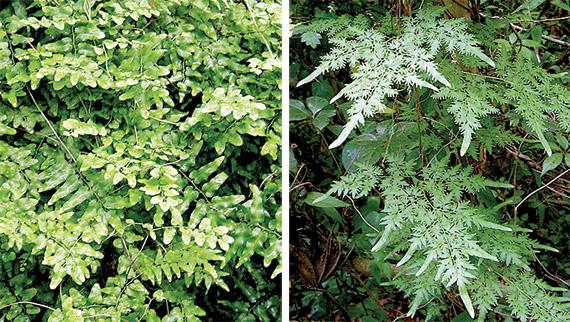 Old World climbing fern (left) is often confused with Japanese climbing fern (right).
Facts About Old World Climbing Fern
Lygodium microphyllum, or Old World climbing fern, is native to Africa, Asia and Australia and was first found in south Florida in the late 1950s.
From 1993 to 2005 the fern increased from 27,000 acres to 122,787 acres in Florida.
A single fertile leaf can produce 28,600 spores. Each spore is capable of traveling through the air and producing a new population of the vine many miles away.
The vines can grow up to 90 feet long.
Moth Tested for Fern Control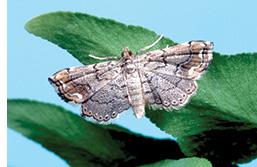 Research is ongoing to control invasives such as Old World climbing fern by using pests and diseases, which limit the growth of these plants. Biological control research is expensive and time-consuming because researchers must be certain that any introduced pest or disease does not become invasive itself. Currently, a leaf-feeding moth, Neomusotima conspurcatalis, has been approved for release in an attempt to control Old World climbing fern. Within the District, this insect is being tested in the Flatford Swamp in Manatee County.