Sharing Science With Students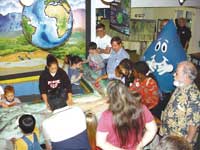 Members of the District's Peace River Basin Board and the District's mascot, Ripply, helped celebrate the grand opening of a new exhibit at the Explorations V Children's Museum in Lakeland.
The Water Matters! exhibit is a hands-on display that illustrates the water cycle and explains the importance of protecting natural water resources. The exhibit encompasses a 10- by 14-foot area of the museum and includes an activated water cycle, a flowing river and a large globe.
Approximately 350 members of the public attended the ribbon-cutting ceremony and witnessed the unveiling of the water cycle display. Patricia Wells-Ortiz, youth education outreach intern, was on hand to conduct groundwater model and watershed model demonstrations. Other grand opening activities included watercolor painting and live music.
The design, development and construction of the educational exhibit cost $30,042, with the District's Peace River Basin Board contributing $8,225.
The museum reaches 88,000 adults and children each year through museum visits, hands-on educational programs and outreach efforts.