Overview
Applicants will be asked to break this down in more detail in the application.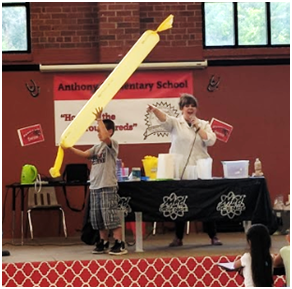 Students will explore and understand the basics of water and how it moves above, on and beneath the Earth's surface. As an introduction to the water cycle, students will make Water Cycle Wristbands and learn about the different processes of the water cycle. Students will then create a Water Cycle in a Bag to see the water cycle in action, as well as observe the water cycle using a model.
Once students have a firm understanding of the journey water takes, they will dive deeper into how the water cycle impacts humans and wildlife. As a class, students will write and illustrate a book using the information they've learned following a water droplet on its journey. Each student will receive a copy of the book to bring home to share with family and friends.
To conclude the grant, Mad Science will be invited to campus for their "What Do We Know About H2O" show to learn more about how water acts, the importance of water conservation and what we can do to save water!
 
Budget
This is an example budget and does not indicate the actual cost of programs or items.
Item
Description
Cost
Quantity
Total
Ziploc bags
(42 count)

Water cycle in a bag activity

$5
2
$10
Permanent markers
(12 count)

Water cycle in a bag activity

$8
4
$32

Water cycle model

Model to observe evaporation, condensation and precipitation

$110
1
$110
Card stock
(90 pack)

Water droplet student book

$10
4
$40

Spiral binding machine

Spiral binding machine plus binder combs for water droplet student book

$60
1
$60

Mad Science assembly

"What Do We Know About H2O" show

$285
1
$285
 
 
 
TOTAL
$537