For decades, the District's five advisory committees have played an important role in providing input on water management programs, projects and related issues. The diverse committees are made up of volunteers from different industries who serve as liaisons between the District and their organizations.
At quarterly meetings, committee members are presented with items of interest from District staff, and other subject matter experts, that relate to their industries. They share the information with the constituencies they represent and provide feedback to District staff and to the Governing Board. Recent topics include seagrass mapping, water conservation programs and cybersecurity.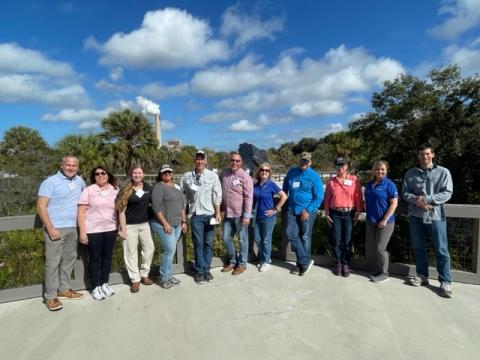 "Our advisory committees are very active, and participation has increased over the past couple of years," said Virginia Singer, Board and Executive Services manager. "Occasional field trips to project sites provide an opportunity to see the results of these collaborative efforts."
The purpose of these groups is to ensure the District is meeting its responsibilities in an effective and efficient manner. The five advisory committees focus on:
Agricultural and Green Industry Advisory Committee – providing input from farming and grower associations, parks and recreation agencies and golf course associations.
Environmental Advisory Committee – giving feedback from environmental groups, estuary programs and chambers of commerce.
Industrial Advisory Committee – sharing information from electric utilities, mining and manufacturing companies. 
Public Supply Advisory Committee – providing input from city and county water utilities.
Well Drillers Advisory Committee – giving direction from local well drilling and water systems companies.
To learn more about the District's Advisory Committees, visit WaterMatters.org/About/Advisory-Committees.