Overview
Applicants will be asked to break this down in more detail in the application.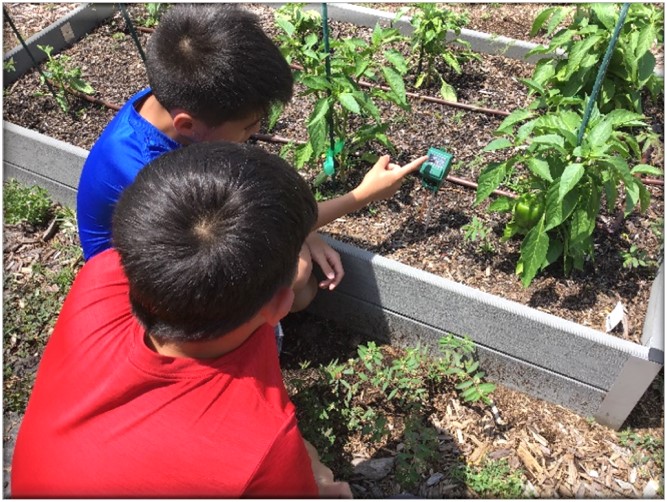 Students will begin this grant project by developing a deeper understanding of the importance of clean, fresh water for humans and wildlife. Through in-classroom activities, students will learn about the source of our fresh water in west-central Florida and the importance of water conservation. This will include viewing SWFWMD's Water Conservation video and playing the Water Conservation Game.
With their knowledge of water conservation, students will engage in an outdoor water conservation project. Using Florida-Friendly Landscaping (FFL) practices, students will design and grow a small demonstration landscape. A member from the UF/IFAS Extension Office will be invited to talk with students about FFL and how implementing FFL practices can help to save and protect water resources. Within the garden project, students will engage in the following activities:
Students will work in groups to design a plot within the demonstration area by researching drought-tolerant, Florida friendly species that match site conditions.

Students will compare different watering methods within the demonstration landscape to find which is more water efficient. This will include using an oscillating sprinkler in one section of the landscape, and micro-irrigation in another. Throughout the unit, students will collect data, such as soil moisture, plant growth, plant health, etc., to analyze how the different irrigation methods compare.

Students will install rain barrels to capture and reuse rainwater to learn more about alternative water supply options.
Budget
This is an example budget and does not indicate the actual cost of programs or items.
| Item | Description | Cost | Quantity | Total |
| --- | --- | --- | --- | --- |
| Graphing Paper | To design plot for demonstration landscape | $10 | 1 | $10 |
| Rulers (20 pack) | To design plot for demonstration landscape | $10 | 1 | $10 |
| Soil | For demonstration landscape (bulk price TBD) | $200 | 1 | $200 |
| Mulch | For demonstration landscape (bulk price TBD) | $150 | 1 | $150 |
| Plants | For demonstration landscape (plants TBD) | $10 | 50 | $500 |
| Garden gloves (6 pack) | Gloves for outdoor work | $15 | 4 | $60 |
| Oscillating sprinkler | Irrigation options #1 for landscape | $10 | 2 | $20 |
| Drip irrigation landscape kit | Irrigation options #2 for landscape | $35 | 4 | $140 |
| Soil moisture sensor | To compare watering methods | $15 | 6 | $90 |
| Rain barrel | To capture and reuse rainwater | $140 | 4 | $560 |
|   |   |   | TOTAL | $1,740 |