This study examined water quality issues in Old Tampa Bay.
Project Area Information
Tampa Bay is divided into seven major bay segments, which are Old Tampa Bay, Hillsborough Bay, Middle Tampa Bay, Lower Tampa Bay, Terra Ceia Bay, Manatee River and Boca Ciega Bay (see map). 
Old Tampa Bay is 84-square miles of open water, representing the northwest portion of Tampa Bay. Old Tampa Bay is separated from Hillsborough Bay by the Interbay peninsula and may be seen while traveling on the region's Courtney Campbell Causeway, Howard Frankland Bridge and Gandy Bridge.
The Old Tampa Bay watershed is about 250-square miles and encompasses northwest Hillsborough and central Pinellas counties. Over the last 50 years the land has transitioned from natural habitat to primarily urban development, negatively impacting the water that ultimately reaches Old Tampa Bay. 
Project Background
Unlike other bay segments, the water quality and seagrass coverage in Old Tampa Bay has not responded to efforts to reduce nitrogen. Recent studies and recurring algae blooms in the upper portions of Tampa Bay over the last few years have indicated the need for a localized assessment.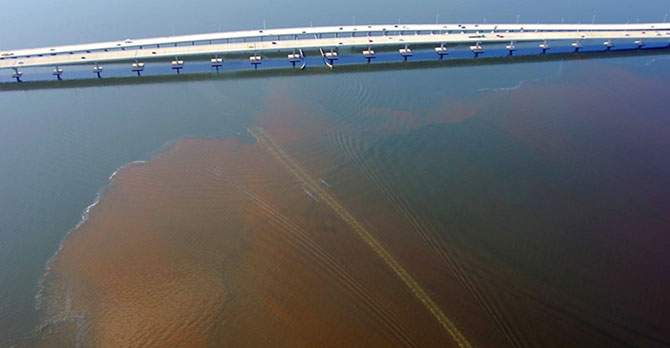 Project Details
The District and the Tampa Bay Estuary Program developed this project to determine the primary factors leading to the declining water quality and habitat conditions observed in Old Tampa Bay. 
The project developed an Old Tampa Bay model, which is an integrated set of computer models that estimate the amount of water and nitrogen flowing from the Old Tampa Bay watershed to the bay, simulate changes to circulation in the bay and estimate the bay's water quality improvements.
The assessment was completed by using the Old Tampa Bay Model to evaluate specific management actions and simulate how the various changes affected the bay's ecosystem. The Old Tampa Bay Model determined benefits to water quality, circulation and aquatic life, and increased seagrass coverage.
Sample of muck that covers some areas of Old Tampa Bay.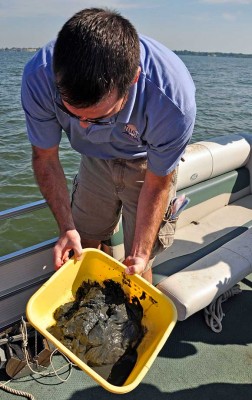 The following actions were evaluated: 
Redirecting freshwater discharges away from Old Tampa Bay, some of which did not historically flow to Tampa Bay
Altering the operation of the District-owned structures on Channels A and G
Adding culverts or bridge extensions to one or more of the three major bridges that span Old Tampa Bay
Redirecting existing wastewater treatment plant discharges
Implementing actions such as stormwater treatment systems
If feasible, implementation of these actions will require continued coordination among the project partners. 
Project Partners
The District and the Tampa Bay Estuary Program collaborated with the Old Tampa Bay Working Group, which included stakeholders from around Old Tampa Bay including Hillsborough and Pinellas counties, Hillsborough County Environmental Protection Commission, Florida Department of Transporation, Florida Department of Environmental Protection and the cities of Tampa, Safety Harbor, Clearwater and Oldsmar.
Visit the Tampa Bay Estuary Program's Old Tampa Bay Integrated Model for information as well as project deliverables.
Project Timeline 
The project began in October 2011 and was completed in January 2015.