The District establishes Minimum Flows and Levels (MFLs) to help protect water resources. An MFL is a regulation to protect springs, spring runs, rivers, lakes, wetlands and aquifers from ground and surface water withdrawals that would cause significant harm.
Overview
Minimum flows and levels are limits established by the Southwest Florida Water Management District (District) Governing Board for surface waters and groundwater that are intended to prevent significant harm to the water resources or ecology of an area that may be caused by water withdrawals. The proposed minimum flow for the Rainbow River System, including springs that contribute flow to the river, is summarized in a revised final draft report and appendices (all appendices can be found on the MFL Reports page).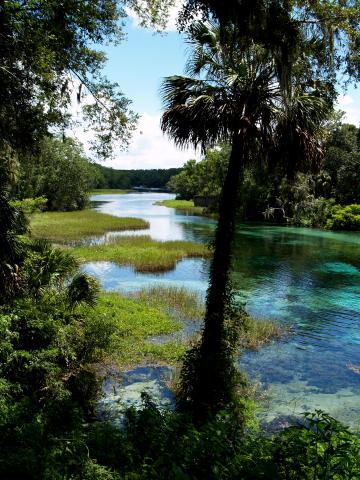 In accordance with Section 373.0421(4), Florida Statutes, the District voluntarily subjected all scientific or technical data, methodologies, models, and scientific and technical assumptions used to support development of the proposed minimum flow to independent scientific peer review. The Rainbow River System's review was conducted by a panel of three independent, recognized experts in the fields of hydrology, hydrogeology, limnology, ecology, biology and other scientific disciplines relevant to the development of the minimum flow. The panel prepared a final report for the District Governing Board and the Board gives significant weight to the report when establishing the minimum flow for the Rainbow River System. The District's staff response to the Peer Review Report is available online.
Outreach Activities
Staff met with residents, community groups, elected officials, local governments and other stakeholders to communicate the recommended minimum flow and to solicit feedback. District staff provided an overview of the recommended minimum flow for the Rainbow River System for review and comment during the Feb. 23, 2017 public workshop at Dunnellon City Hall. A summary of the public meeting is available as Appendix B to the minimum flow report. Additional public input and staff responses to this input are include in Appendix D to the minimum flow report.
Tentative Schedule
During the January 24, 2017 District Governing Board meeting, the Peer Review Report and the District response were presented as a submit and file report. The public comment period closed March 28, 2017. During the March 28, 2017 Governing Board meeting, the final draft report of the Recommended Minimum Flow for the Rainbow River System was approved and rulemaking has been initiated. The tentative schedule is outlined below.
January-March 2017: Stakeholder outreach and meetings
Feb. 23, 2017: Public workshop 
March 28, 2017: District Governing Board meeting – Discussion item and request to approve staff recommendation
April–June 2017: Rulemaking (includes, among other things, public notices, 21-day public comment period, legislative committee review, public hearing, if any, and rule filing — visit Online Sunshine's rulemaking process for details)
July 1, 2017: Minimum Flow must be adopted