A devastating weather year led to the creation of the District and weather continues to guide the District's policies and procedures during the last six decades.
As the District celebrates its 60th anniversary this year, today's water management decisions are strongly guided by the floods, freezes and droughts of the past.
The District was founded in response to a destructive year of flooding in 1960 caused by a spring rainfall event that brought 27 inches of rain and Hurricane Donna, which hit Florida later that fall. After the District was formed in 1961, plans started for the Four River Basins, Florida Project to alleviate future flooding events.
And while it was more than 40 years before another major hurricane would hit the region, the District experienced numerous periods of drought throughout its 60-year history including two major droughts during the early 2000s.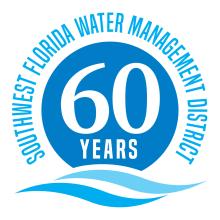 Those droughts drove the District to develop alternative water supplies and enhance conservation initiatives.
One of the most extreme weather events in the District's six decades may be the 2010 Freeze Event. During the 11-day freeze event in January 2010, farmers in the Dover and Plant City areas pumped nearly one billion gallons of groundwater per day to protect their crops, dropping the aquifer 60 feet and resulting in more than 750 dry wells and more than 140 sinkholes.
As a result of that event, the District examined all its freeze policies and revised its procedures, including designating a new water use caution area to reduce the potential for impacts from groundwater pumping during future freezes.
And while the area will always experience the cycles of mother nature, extreme weather events are becoming more common, according to Granville Kinsman, the District's hydrologic data manager.
"Weather patterns are really poorly understood," Kinsman said. "The challenge is to ensure that our water supplies will withstand these extremes."