Many of the tips the District promotes for Water Conservation Month can be found in use at its own campuses.
For example, District-owned offices in Tampa and Brooksville have water-efficient toilets, water monitoring systems and rain sensors and follow Florida-Friendly Landscaping™ guidelines.
Each campus is equipped with low-flow toilets, urinals and faucets. Typically, the low flow toilets save three or more gallons a flush compared to older models. The low-flow bathroom faucets use at least one gallon less per minute compared to other faucets.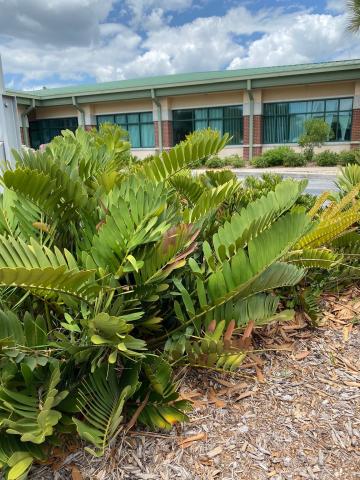 All of the bathroom fixtures are monitored through building automation systems to detect any possible leaks. The system monitors around the clock and will notify staff if a leak is detected, determined by the output of water over a period of time.
"This system prevents leaks from going unnoticed and saves the water that might be wasted otherwise," said Michael Schremser, facilities analyst.
District buildings also are equipped with rain sensors to regulate the irrigation system. The sensors will temporarily shut off the irrigation system when it has rained, preventing overwatering. The District encourages residents and businesses without rain sensors to "Watch the Weather and Wait to Water." In other words, if rain is in the forecast, manually turn off your irrigation system.
Florida-Friendly Landscaping can be found throughout District campuses. The landscaping program is a set of guiding principles that matches the right plant with the right place to protect resources while maintaining an attractive landscape.
For example, lilyturfs, crepe myrtles and Indian hawthorns are planted on campus because they use less water. 
For ways to save water in your own home or business visit, WaterMatters.org/Conservation.