About 30 volunteers recently came out to Conner Preserve in Pasco County to plant 2,000 longleaf pines.
Volunteers were members of Lutz Boy Scout Troop 12, the Lutz/Land O' Lakes Woman's Club and Lutz/Land O' Lakes Lions Club. Allen Milligan and Chris Reed, District senior land management specialists, provided planting guidelines to the volunteers.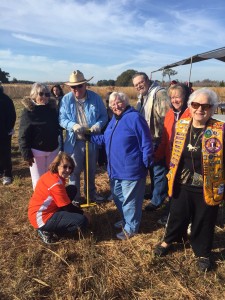 Milligan said the objective of the project was to reintroduce pine trees to an area where the District restored native groundcover during the last several years.
"Ultimately, we would like to see these seedlings mature to an age where they can handle prescribed fire and begin to function as part of the restored natural community," he said.
The project helps the Lions Club members meet their national initiative to plant seven million trees worldwide in five years. It also helps the troop members earn community service hours and a badge for their efforts.