About 30 volunteers and District staff recently spent an evening cleaning invasive algae out of Weeki Wachee Springs in Hernando County.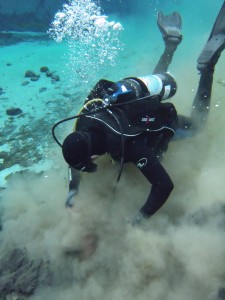 The volunteer event was a coordinated effort by the District, the state park and local rotary clubs to remove an algae known as Lyngbya. This event was part of a long-term maintenance plan for a District restoration project completed in 2009 designed to help keep the spring and river healthy.
While not all algae are bad, this quick spreading species can rapidly invade disturbed areas and displace beneficial grasses, reducing the overall stability of this unique underwater ecosystem. Some volunteers used rakes to lift the invasive algae off of the submerged grasses, while other divers, removed the algae by hand.  
The collected material was dried and hauled away to be used as fertilizer at other locations.
The rake technique was developed by the Kings Bay Rotary and its president Art Jones, who founded the One Rake at a Time Program in Citrus County. That program was an inspiration to the Brooksville and Spring Hill Central rotary clubs, which wanted to apply it to Weeki Wachee Springs.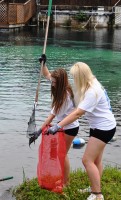 The District's Springs Team Leader Chris Anastasiou said he hopes the event educated the volunteers. 
"I hope that people walk away from the event with an appreciation of what's here," he said. " It's really important to know that this river is unlike any in the world. When you give the public ownership in restoring these springs, it's hugely important because people really begin to understand the problems these systems face and ways in which each and every one of us can do something about it."
To learn more about the District's efforts to restore our springs, visit the District's springs website at WaterMatters.org/Springs.