More than 300 volunteers broke a record last weekend at the Rock Ponds Ecosystem Project when they planted 40,000 plugs of marsh grass, making it the largest installation of marsh plants in Tampa Bay.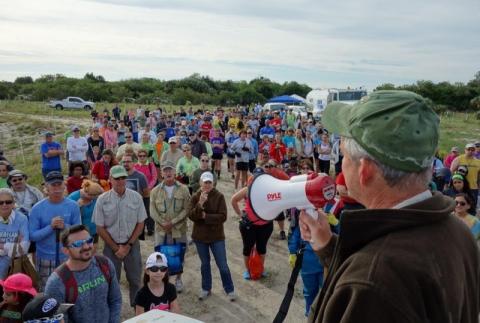 The event was a collaboration between the District's SWIM program and Tampa Bay Watch, Hillsborough County and the Florida Fish and Wildlife Conservation Commission. 
"In just an hour, this has gone from looking like a desert to all this green. It's amazing. You feel like you're part of a big thing," said volunteer planter Susie Venters. 
Governing Board member Wendy Griffin attended the event and praised the partners coming together.
"It was planned, well organized and it was a great time for everyone out there," she said.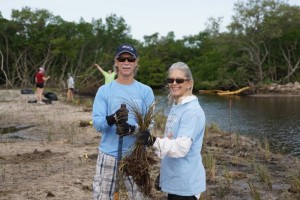 The planting of salt marshes protects and stabilizes low lying coastal lands and provides protection and food sources for many species of fish and marine mammals. Salt marshes and other coastal habitats have declined during the past century due to human activities. This loss has damaged a crucial link in the bay's food chain for fish and wildlife resources, significantly impacting the bay's fisheries.
The Rock Ponds project is the largest coastal ecosystem restoration project in Tampa Bay. The site was agriculture fields, shell mining pits and surrounded by non-native and nuisance plant species. There are three sections of the Rock Ponds, the current phase being the mining pit. This site has been partially filled and recontoured to provide more than two miles of new Tampa Bay shorelines and islands in need of plants.