The public can now get an up close look at the beauty and wildlife of Three Sisters Springs by land. 
The District's Three Sisters Springs property in Crystal River is now open daily to the public through manatee season. The property, also owned by the City of Crystal River and managed by the U.S. Fish and Wildlife Service, features a boardwalk with seven observation areas around the springs, toilets and a shelter area.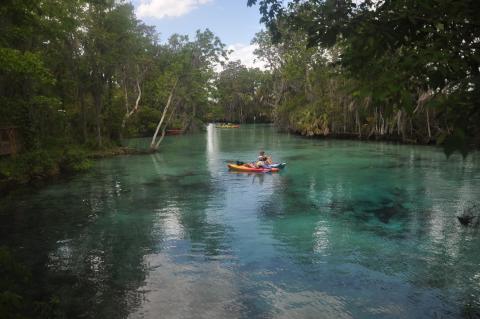 The property only can be accessed through shuttled services conducted by local tour company River Ventures. They'll be offering daily shuttled trips between 10 a.m. to 4 p.m. until March 31. The property is closed Thanksgiving and Christmas Day. Tours cost $6 for adults, $5 for seniors (55 plus), $4 for children (10 and under), and $3 for Crystal River residents (must have photo ID with address).
The hour-long tours will feature volunteer interpreters at the viewing platforms to help enhance the visitor experience with key messages about the springs' hydrology, ecology, manatee population and natural history. Visitors can also learn about the District's ongoing wetland treatment project, which will treat stormwater runoff and improve the quality of stormwater before entering Kings Bay.
In addition, the Three Sisters Springs property will host free open house events from 9 a.m. to 3 p.m. on the following dates: Dec. 6, Jan. 17 and 18 for the Manatee Festival, and Feb. 21. All open house events will include free shuttles from Kings Bay Plaza and pedestrian and bicycle access.
For information on the tours, visit VisitThreeSisters.com.
For information on the open house events, visit FWS.gov/CrystalRiver or call the Crystal River National Wildlife Refuge at (352) 563-2088.