Whether they were operating structures, providing needed equipment or talking to citizens, staff members were busy the past month responding to the record rainfall received in parts of the District.
The rain event affected nearly every department at the District. The record rain that occurred from July 26 to Aug. 7 had many employees working around the clock. And nearly daily rainfall in some parts of the District has continued to keep staff busy.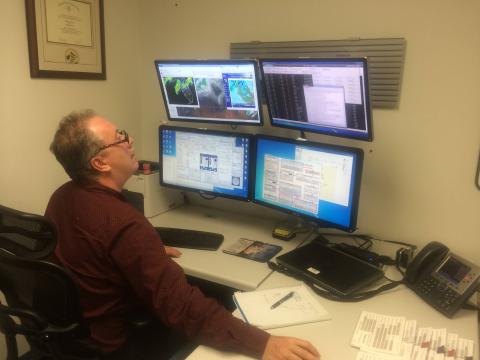 Robert Beltran, the District's executive director, applauded the hard-working staff at a recent meeting. 
"The historic flooding event was a perfect example of teamwork and dedication by staff in support of the District's mission," he said. 
Diana Koontz, the Structure Operations manager and Mike Bartlett, Chief Structure Controls analyst, were both working around the clock operating the structures. Other Structure Operations staff worked 14-hour shifts, working weekends and their days off, ensuring structures were operating efficiently.
The District activated the Tampa Bypass Canal after the Hillsborough River reached an elevation of 25 feet above sea level near Fowler Avenue. That triggers the Army Corps of Engineers activation level of the Lower Hillsborough Flood Detention Area.
The District worked closely with Pasco County to provide them with two pumps, a sand bagging machine and sand, EOC support and staff to assist with flooding issues. In addition, the District coordinated the procurement of additional pumps from other water management districts. Also, a number of the District's engineers walked neighborhoods and talked to residents, documenting high-water-mark data.
The District's Regulation division fielded more than 300 calls, conducted site surveys and checked water management systems.