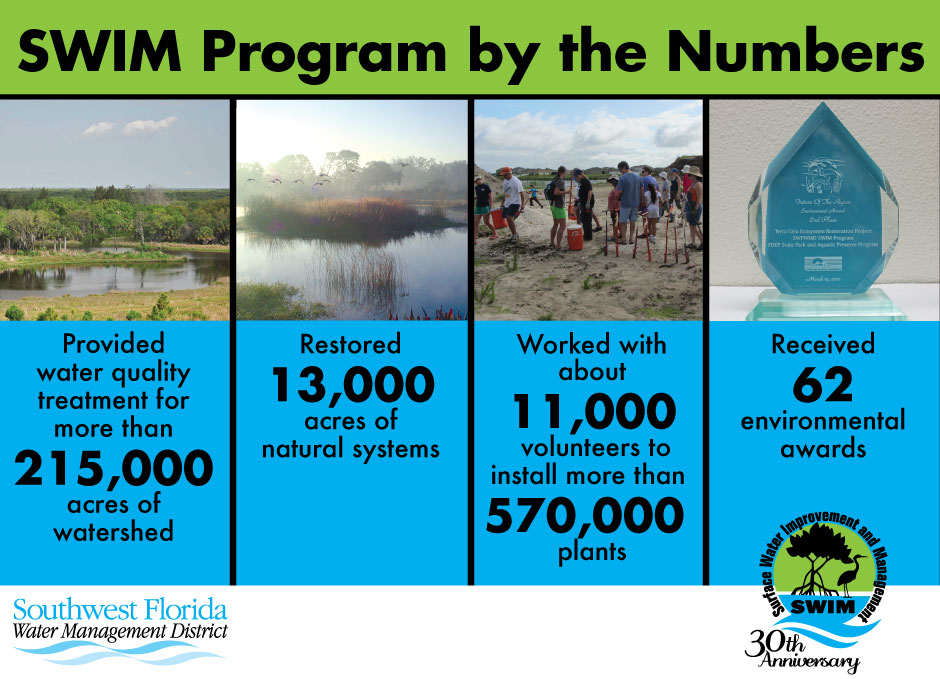 For three decades, District staff have managed hundreds of projects that provided water quality improvement for surface water bodies and restored thousands of acres of habitats through the SWIM program.
The Surface Water Improvement and Management Program was created by the Florida Legislature in 1987 to protect, restore and maintain Florida's surface water bodies, many of which were severely degraded 30 years ago. 
Through the years, SWIM projects have restored natural systems and enhanced habitats across the District. To mark the 30th anniversary of the SWIM program and its accomplishments, the District's Governing Board declared August SWIM month.
"The SWIM program is a success because of the blood, sweat and tears our staff and partners put into these projects," said Randy Smith, SWIM Program manager. "And that dedication extends beyond our SWIM staff to other areas of the District like our Operations and Procurement staff. It's a true collaboration, and it's been a privilege to work with such dedicated and passionate staff."
The District's SWIM program has completed more than 350 projects that provide water quality treatment for more than 215,000 acres of watershed and restored about 13,000 acres of habitat. 
For more information about the SWIM program, visit WaterMatters.org/SWIM